Pine Brothers Cough Drops are back!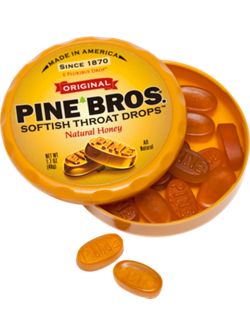 Some of the most fulfilling posts to write are the ones dedicated to micro niche topics that no one else is talking about. Through the magic of the Google, your silly little post about obsolete technology X or discontinued product Y can gather visitors over the course of several years, and if you're lucky enough, you can grow little micro-communities inside of each post. It's amazing. A few posts Mike Industries posts that created such flash communities are:
Something great happened in the Pine Bros. thread several months ago: a woman chimed in to say that her family had bought the rights to the Pine Bros. name and was hard at work recreating the formula in order to bring them back to market. It seemed too good to be true, but I'm happy to say that as of right now, this great product is once again available! They plan on releasing four flavors for distribution nationwide, but for now, you can just get the Honey flavor at the Vermont Country Store. I ordered three tins. They were predictably gone in less than three days and now I'm ordering more.
Since I had purchased a box of 50-year old Pine Bros. cough drops on eBay a few years ago, I have tested the new drops against the old. The bad news is that they seem to taste just a tad more mild than the originals, but the good news is that it's very, very close.
If you miss Pine Bros. cough drops as much as I did, quit reading this and get on over to Vermont Country Store already. They've already sold out at least once.