Too Much Cream of Wheat?
Are there any Cream of Wheat aficionados in the audience? If so, can anyone tell me why my local supermarket gives me four choices for what should be one of the most basic foods on the shelf? See the picture below that I snapped yesterday. We apparently have a 10-Minute version, a 2.5-Minute version, a 1-Minute version, and an Instant version now: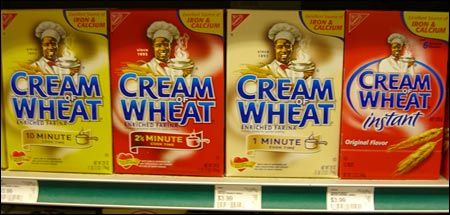 I haven't eaten Cream of Wheat since I still had my baby teeth, but is there really such a need for so many versions? I guess I understand the "10-Minute" and the "Instant" because usually food that takes longer to cook is better, but is there a palpable difference between the three quickest versions? And perhaps more importantly, if the stuff is to be eaten hot, how much quicker could "Instant" really be than "1-Minute"? Who is the person who needs to shave a few seconds off of their one-minute breakfast drill?