Desperately Seeking Pine Bros.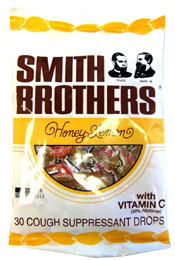 Everyone knows cough drops are wolves in sheeps' clothing. Pretending to cure you of your esophageal ills, these sugary lozenges usually do nothing more than stimulate your salivary glands into wetting your throat down until the next dose. The better they taste, the more you eat, and the less frequently you think about how crappy you actually feel.
When I was little, the undisputed taste leader in cough drops were Pine Bros (also known as "Pine Brothers") chewy throat lozenges. Actually, back then, I don't even think they were called "throat lozenges"… just "cough drops". Short and sweet. They came in Honey flavor and Cherry flavor and had no medicinal value whatsoever. Just soft, chewy, long-lasting, and fabulous on the tastebuds. We ate them like candy. Awesome candy.
I forgot all about Pine Bros. cough drops for about 15 years between the late 80s and around 2002 when I unexpectedly found a reference to them on the internet and had to have them again. Through medichest.com, I was able to order several cases at very reasonable prices. The recipes had changed slightly and the lozenges were now being sold as "glycerine based zinc supplements" by a different company — with nary an actual Pine brother to be found — but they were still great. I ended up buying several more cases until the product suddenly disappeared off the face of the earth a couple of years ago.
Since that time, subsequent product searches have come up empty. There are even posts on eBay offering top dollar for any existing supply.
… which leads to my two questions:
Does anyone know exactly what happened to these things and why?
What is currently the most widely accepted substitute for Pine Bros. cough drops in the world today? I've recently gotten hip to Airborne Gummy Throat Lozenges which are pretty damned close to the real deal. The upside is that they taste every bit as good as the original, but the downsize is that they are a whopping $3 a pack and you have to pick out the nasty licorice ones from the otherwise great flavors of honey, orange, cherry, grape, and lime. I have also heard that Grether's Pastilles and even Weight Watchers, believe it or not, are making decent substitutes for the originals. Anyone tried these?