Is It Okay To Eat 50 Year Old Cough Drops?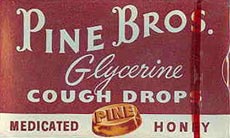 So after my post about the disappearance of Pine Bros. cough drops, Freckles discovered there was an eBay auction offering up one unopened box of the honey-flavored variety. The rub being that they were from a production run in the 1950s.
I placed a bid of $6, won the auction, and my 50-year-old box of cough drops is now en route. So the question is: what is the shelf life on an item like this and are they safe to eat? If yes, I will eat them. If no, I will just keep them as memorabilia.
Any scientists out there in the audience? What happens to honey and glycerin over the course of 50 years? I have actually heard that honey is the only food in the world that never spoils.