iPod Giveaway #4: I Found a Shuffle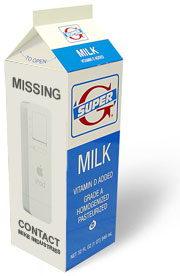 The 4th monthly Mike Industries iPod-A-Month Creativity Competition starts today and the rules are simple: I found an iPod Shuffle. In order to claim it, you must identify it and tell me precisely how you lost it. I have a feeling there is a rich story behind this little piece of plastic, and the person who successfully reveals it in the comments will be reunited with their baby. Submissions will be accepted until midnight on July 31st.
Special thanks to Mike Roberto for coming up with the idea for this 4th contest. Mike will receive a Shuffle from me, and of course, the contest submission pool remains open until the end of the year.
Extra special thanks as well to Dennis Lloyd and iLounge (formerly iPodLounge) who are once again adding a pair of $150 Etymotic ER-6i earbuds to the prize pool.