If You Love Something Give It Away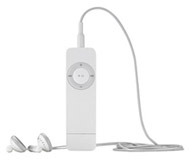 I want to give away some iPod Shuffles. I'd like to give away at least one a month and possibly one every two weeks for the rest of 2005 if that's okay with everybody. This isn't some freeipods.com network marketing dealio… I just really want to give some Shuffles away.
The only problem is, I can't think of a really inventive way to give them away right now. Earlier this year, I gave Isaac Lin and Jay Robinson an Apple Bluetooth Keyboard and a Wireless Mouse in a haiku contest that turned out great, so I may go that route again, but I'm thinking there might be a better way.
In light of my lack of creativity at the moment, I've decided that the very first iPod Shuffle will go to the person who comes up with the best way for me to give the rest of them away. Here are some considerations to keep in mind when coming up with your pitch:
Each iPod Shuffle will essentially be purchased by me online and shipped as a gift to the winner, so the contest cannot involve me personally doing anything with the iPod such as looking at a serial number and making people guess it.
Entries should be relatively quick to complete. A haiku is a perfect example. I don't mind if they take a few hours or a few days to do, but nothing ridiculous please.
Entries shouldn't involve performing any illegal acts.
Entries can involve the written word, photography, natural media, or any other creative outlet.
I am open to this contest changing slightly with each round, so the entry criteria don't need to be exactly the same every month or week.
If your idea for this giveaway involves a novel use of the internet that I hadn't thought of before, it is likely to win.
If no idea turns out to be better than the haiku contest, I will stick with the haiku contest and award myself the first iPod Shuffle. Woohoo!
UPDATE: Tons of tons of great suggestions so far! I think I'm going to have to pick 9 of them and do a different one each month. The people who came up with the ones I use will get iPod Shuffles, and the people who win the associated contests will get them as well.