Nokia E70 Lust
A few months ago, I made a concerted effort to eliminate all RSS feeds from my news aggregator which met at least one of the following conditions: 1) Signal-to-noise ratio was under 25%, 2) Feed was updated more than 10 times a day, or 3) A good percentage of the items were re-blogged from other sources.
Two of the first sites to walk the plank were unfortunately both Gizmodo and Engadget. While I've enjoyed both sites immensely over the past couple of years, they both match all three criteria above, and since eliminating them from my blogroll, I've been able to keep my "RSS lint" down to reasonable levels.
This week though, I may have paid the price for being out of touch with the gadget rumor mill. Thanks to Om and his damn persuasive writing style (not to mention Jason), I ordered a Nokia N70 phone over the interweb. I've been using a Treo 600 for the past two years and although I still love it, I've just had a new-phone-itch for the past couple of months and reading about the N70 was enough to get me to finally scratch it.
It seems like a whale of a phone, and although I've never liked Nokia's interfaces in the past, this one looks pretty nice. For all the high-tech features on the N70, the kicker that got me to actually purchase it was a fairly low-tech one: an FM radio. FM radios in Seattle are a lot more useful than in most other cities because we are home to KEXP, the world's greatest commercial-free radio station. Being able to listen to commercial-free live music on my phone is a huge plus.
The only huge downside of the N70 to me is the lack of a QWERTY keyboard. I've gotten so used to the Treo's keyboard that it's going to be hard to use T9 again.
So I ordered this thing for about $500 (which is probably too much) and it should arrive next week.
No sooner do I check the status of my delivery last night that I now find out about the Nokia E70, due in the first quarter of 2006. Oh my god! Look at this thing: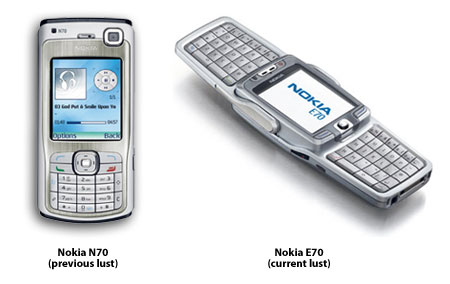 Not only does it have almost every feature of the N70, but it's smaller, flips open to reveal a QWERTY keyboard, has 352×416 resolution, integrated WiFi with VOIP, built-in push email support, spoken Caller ID, and a million other features as well.
So I think with this N70 purchase, I have officially broken my own buyer's remorse record. It's supposed to arrive on the 14th and today is the 10th, so that's negative four days. Oh well, at least the N70 gives me one thing the E70 doesn't: an FM radio for KEXP.