Mint: The Flavor Of The Month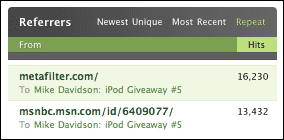 Next week is a big news week. Apple is releasing their new lust object, NFL season begins, and there are tons of Labor Day concerts and festivals to attend. But the biggest development for me personally will be the release of The Wolf's shiny new creation:
Mint.
For the last several months, Mr. Inman has been frittering away his nights and weekends creating what I believe to be the most useful stats program in existence. It's not Urchin, it's not Analog, and it's not designed to record every single hit to your website since the beginning of time.
But that is its strength.
Mint, as the name so cryptically implies, is designed to give you a "fresh look at your site". A slice in time, if you will. Where has my traffic from the last 48 hours come from? What days of the week does activity on my site peak? What terms have people possibly been searching for that could lead them to my embarrassment-of-a-website?
Mint grew out of a desire to maintain a rolling window, or dashboard, of activity with which one could easily analyze what's going on in the here and in the now. Not so much in the two years ago. It is this philosophy which allows Mint to maintain such a small database (generally around 20 megs, but fully customizable) and yet provide such great functionality.
I'll let Shaun spill the full details upon release next week, but I wanted to briefly talk about my favorite Mint feature; one I feel somewhat responsible for since I badgered The Wolf so incessantly about it all through development — The 24-hour "Drive Through" Referrer Window.

Repeat referrers — the single most useful web stat
As a previous user of both Shortstat and Refer 2.0, I get great value from perusing my list of referring URLs. For the uninitiated, this is a list of all the URLs on the web which people are clicking on to get to your site. Did MSNBC just link to a blog post of yours? Bam, it's in the referrer list. Is Metafilter sending over morons to your latest iPod contest only to have them suggest "Google.com" as a potential "greatest site you've never seen"? Again, it's in the referrer list.
Most stat programs, including Shortstat, will give you a linear list of referrers as they come in. This is only marginally useful because so many of them are repeats. Other stat programs, like Refer 2.0, will group referrers by how many clicks they receive within an X hour window. This improves the functionality tremendously.
However, the biggest problem with referrer logs lately has been the onset of referrer spam. Essentially what happens is that spambots hit your site and pass along a fake referrer like "http://unlimited-free-viagra.com" in hopes that you, as a referrer log junkie, will click on the link and purchase (?) some free Viagra. The referrer spam problem has gotten huge lately. So much so that on any given day, my Refer 2.0 readout shows 80% referrer spam.
Mint to the rescue
What The Wolf has done with Mint, however, solves the referrer spam problem outright. Since Mint validates every hit with javascript, no referrer spam ever gets through. In other words, if you aren't using an actual browser — one with javascript enabled — your referral hit will never even make it into the system.
Purity in referrer logs. Is there anything more beautiful?
So anyway, stay tuned for the impending release of Mint. You should hear more about it and its many other features in the next few days.