iPhone Prediction Confirmed
UPDATE:
Uhhh, thanks for the semi-false alarm Engadget and Forbes! Now that we've had a few days to absorb things, updated thoughts are available here —
iPhone Update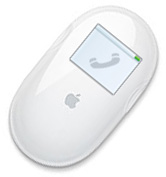 Way back on July 25th, I told you Apple was coming out with a cell phone. This was before any preliminary Motorola announcements, before any recent rumor mill gossip, and a full four months before Russell Beattie's and Ross Mayfield's great articles on the subject. I even told you the exact month: January of 2005.
Lo and behold, via today's announcement in Forbes magazine (which was via this article at Engadget), Apple has confirmed that not only will they be releasing a full-fledged Apple-inspired phone with Motorola circuitry, but it will likely be shown off in January to an eagerly-awaiting public at MacWorld Expo.
I, personally, can't wait.
While I am very excited about the official announcement, the revelation that it will be a "mid-range" device probably means that I won't dump my Treo for it. Once you've tasted the sweetness that is the high-range, full-featured phone, it's tough to imagine going back. However, we all know that Apple is not in the business of producing anything "mid-range", so I'd bet a large sum of money that this initial iPhone release is just the tip of the iceberg. Might we see a "PowerPhone" shortly thereafter? We most certainly will. The only question is when. Want another prediction? Same time next year.
So what is the moral of today's iPhone announcement?
I am all-knowing, all-powerful, and ever-sure… at least when it comes to technology predictions. :)
Where there's a cool product to be made, rest assured Apple will make it.
Now if only Steve Jobs could get over his hatred for television, maybe we'd see a damned Media Center Mac already. I know I'd pay a healthy sum of money for one.
Note: The photo illustration above is obviously not representative of what the Apple phone will look like. It's the product of two-minutes worth of Photoshop work.