All Hail the iPhone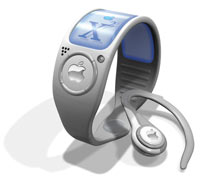 One of the longest running rumors in the Apple community is the emergence of an Apple-branded cell phone. Apple has denied the existence of such a product for as long as the world can remember, and up until now, they've had legitimate reasons to stay away from the cell phone market. Poor data speeds, poor service, incompatible frequency standards, and lack of profit on handsets have all been cited as reasons to stay away from the cell phone business. With the emergence of several new developments in the cell phone industry, however, it is becoming rapidly clear that Apple is ripe to enter the cell phone market within the extremely near future.
Let's examine what's new:
The MVNO Market
As companies like Virgin, AT&T Wireless, and others enter the new MVNO (Mobile Virtual Network Operator) market, it is becoming clear that the key to success in the MVNO realm is branding. For those unfamiliar with MVNOs, they are a relatively new phenonemon in the wireless industry whereby a company like Virgin resells wireless minutes through a provider like Sprint PCS. A customer buys a Virgin-branded phone at a retail location, signs up with service through Virgin, and goes on to use the phone, receiving bills and notices as though everything was coming from Virgin. Behind the scenes, however, Sprint is doing all the heavy lifting. Their network provides the infrastructure for placing and receiving calls, they meter customers' usage, and just about everything "technical" related to the customers' use of the phone is handled by them. The deal is a win-win for both companies because Sprint fills up their network with more customers and Virgin's brand does all the selling. Many MVNO operators have a special differentiating factor to them, and Virgin's is pre-paid service… perfect for teens.
GSM and CDMA
It used to be impossible to design a phone which would work on most cellular networks. The U.S. market was so splintered with incompatible standards that service providers had to pay handset manufacturers to develop phones for their platform. Well now it's 2004 and the world seems to have standardized on two basic standards for now — GSM and CDMA. In the U.S., Sprint PCS and Verizon use CDMA and T-Mobile, Cingular, and AT&T Wireless use GSM. What this means is that handset makers need only develop for two platforms to cover 90% of the market. Handspring currently offers its Treo 600 to customers of all five of the providers mentioned above. It is for the most part, an identical unit, save a minor color variance and a few internals.
Profitability in Handsets
Handspring is smiling all the way to the bank with the success of their Treo 600 smartphone. Even with a $600 price (near the top of the cell phone market), Treos are flying off the shelves faster than Handspring can manufacture them. While most people pay under $100 for their phone, or nothing at all, the pent-up demand for a true portable convergence device is so great that Handspring can sell a unit with a fairly low-resolution screen and no bluetooth for crazy prices. There will always be cheap little free phones around to coax customers into signing long-term contracts with service providers, but Handspring has proved with the Treo that the high end of the market is where the profit is.
The Success of the iPod
Apple has enjoyed the same sort of success with the iPod as Handspring has with the Treo. Both are very expensive devices which were eaten up by the public not because they filled niches, but rather because they created niches. There was no clamoring for a $400 portable music player before the iPod and there was no clamoring for a $600 phone before the Treo. Apple has turned the iPod into a cultural phenomenon by giving people all sorts of new freedoms they never had before.
The iPod and the Treo are about the same size, they both play MP3s, and yet the iPod only does a few things better. It has up to 40 gigs of storage, as compared to the 1 gig SD card you can stick in a Treo. That's about 10,000 songs vs. 250 songs (albeit in removable form). The second thing is does better is provide a dedicated music-centric interface. The Treo's interface must do 1000 things with the iPod's does only do a few. And finally, the iPod looks a little better than the Treo, and that is a testament to Apple's legendary design prowess.
Aside from those three things, however, the Treo dropkicks the iPod right off the playing field. It makes calls, organizes contacts, syncs with PCs and Macs, plays games, runs applications, gets email, surfs the web, checks blogs, has crazy-high battery life, and on and on and on. So if I only have room for one cigarette-pack-sized device in my pants pocket, which one am I going to pick? That's easy. There is no good reason for portable music players to continue on as standalone units, and Apple, being a smart company, realizes this.
Viable Cellular Data Speeds
The "wireless web" has long been a joke among those of us involved in web design and development. Who wants to develop for tiny screens and sub 14.4kbps speeds? Cellular service providers placed large bets on their data networks early and when the customers failed to come in, the public lost faith in the business. While the 3G speeds companies have been promising for the last several years still aren't here yet, the data rates on the big five cell networks in the U.S. could now legitimately be considered viable for lite-duty digital communication. Reading e-mail is a snap, syncing contacts takes seconds, and even browsing the web is an acceptable experience if you don't mind waiting a few seconds here and there. Were Apple to make waves in the cell phone industry, they would make waves on the data side of things, and the state of the industry suggests the timing may finally be right for such a foray.

Enter the iPhone
We've already established that the question is not "if" but rather "when" and "how". We'll keep the "when" as short as possible but saying "as soon as it's ready and not a second later", then we'll move straight to the "how"…
MVNO strategy: Signing a deal like the Virgin deal would be both costly and limiting for Apple. Sprint and Virgin each paid about $180 million to get the system set up, and the deal limits Virgin's customers to service on the Sprint network. A cheaper option for Virgin — one which some other companies are choosing — would have been to simply sell branded Virgin phones at retail and let Sprint handle all of the billing, customer service, and everything else associated with the service. This still isn't good enough for Apple though as Sprint's service may be unavailable or subpar in some areas of the country. It would also tie Apple's customers to one company's rate plan. What Apple needs to do is sell their phones directly (as Handspring does) and sign customers up with whatever provider they wish, reselling only the data part of the plan. Most service providers have data plans priced in roughly the same ballpark so it wouldn't be hard for an Apple iPhone to come with a $10 per month data plan across the board. Apple keeps the $10 per month and the service provider gets the new customer and all of their talk-time minutes. Right now, .Mac is the only recurring revenue strategy for Apple… the iPhone will be the second. Furthermore, even if one only company decided to allow the iPhone onto their networks, that's a huge group of possible users. The most obvious willing participant would be T-Mobile… a company aimed squarely at the hip youth market, and one Apple's marketing and great product sense would jive well with.
Data Strategy: The two killer apps of the iPhone will be the music player and Mobile iSync. Many Apple users don't use .Mac right now because there is no compelling reason to do so. With .Mac synching built into the iPhone via iSync, $99 a year doesn't seem so bad anymore. Especially considering that Apple's data plan could include many mobile browsing niceties like a mini-Safari-KHTML browser, Dashboard-like applications, and a nice native mail/newsreader. And if we ever see an Apple set-top box DVR of some sort, the iPhone could act as the Bluetooth remote. T-Mobile is again very strong in the data department, with by far the lowest prices among any other carrier, so they are again a great match here.
Music Strategy: Take the guts of the iPod Mini, replace the hard drive with an SD slot and shove it into the phone. Case closed. What more do you need? SD cards should be up to 4 gigs within a year or so, so all of a sudden you have solid-state storage which matches the iPod Mini in capacity. Jupiter Media Metrix came out with a survey several months ago which concluded that 4 gigs is the "optimal amount of storage" for a music player, so this size should satisfy most people. I listen to a lot of music and the current 1 gig chips are enough for me. It's more of a music shuttle and less of an all-inclusive library.
Design Strategy: Although the wristwatch-style incarnation of the iPhone which appears at the top of this article (illustration by Kenn Brown — originally appearing in Wired Magazine) is a nice idea for the more distant future, I expect to see something more along the lines of an iPod/Treo hybrid, in order to save costs and also save thousands of people from wetting their pants. Anything roughly the size of a cigarette pack and carrying the famous Apple design touches will be just fine. Expect to see an I/O sporting only Bluetooth and SD. Wi-Fi would be great but is largely unnecessary at this point due to the massively greater coverage area of CDMA/GSM compared to the random smattering of 802.11 access points we have now.
"Apple has realized that the closer a device is to you literally, the closer you are to it figuratively."
Pricing: I'd pay $600 for a Treo, and to be embarassingly honest, if you did nothing more than slap an Apple logo on the outside and tell me it was made in Cupertino, I'd pay at least $700. Possibly a whole lot more, but I don't really want to admit to that. Apple users are used to paying more for the finer things, and this would be the finest of the fine. As Apple has moved from the large desktop, to the sleek laptop, to the tiny iPod, it has realized that the closer a device is to you literally, the closer you are to it figuratively. Being that this lust item would be even closer to you than your iPod, the iPhone could command a huge premium. I'm going to go out on a limb though and predict the iPhone will sell for roughly what a Treo sells for. The hardware engineers at Apple are masters of production, and I believe they can manufacture the device we're talking about for under $500. And even if Apple doesn't make a penny on the hardware, they are getting $10 per month from you on the data service and possibly getting you to buy a new Mac.
So why haven't we heard of anything yet?
Easy. It's Apple we're talking about. Loose lips are a quick ticket to unemployment and lawsuits if you're an Apple employee. Then why does Steve Jobs keep denying such a product is even in the pipeline? Denying is not against the law and Jobs is just managing expectations until the time is right. It's risky enough introducing an Apple-branded product and tying it to the unpredictable service quality of a cell service provider, but the company sure as hell isn't going to have any hardware shortcomings on its watch.
I'm going to go on record as saying we'll see this around the beginning of 2005. I'll also go on record as saying if Apple doesn't capitalize on this opportunity soon, the market for iPods will dry up and they won't have a digital lifestyle leg to stand on.
Update: How's this for timing? A day after I wrote this article, look what Apple and Motorola just announced?
"Wouldn't it be great if you could take a dozen of your favorite songs with you on your phone," Jobs said. "We thought it would be great if together Motorola and Apple could give them (consumers) a small taste of what this digital music revolution is about."

Before Jobs appeared on screen, Motorola Chief Executive Edward Zander, holding up a Motorola cell phone and an Apple iPod digital music player, quipped: "It would be great if we could just figure out a way to bring these two devices together."
Although this turn of events does not represent the product I am writing about here, it's the clearest sign yet that Apple is waking up to the cell phone industry. With Cupertino handling the hardware design and UI and Motorola engineering the circuitry and infrastructure, we could have a real product on our hands pretty quickly here. On the other hand, I suggest Mr. Zander do the remainder of his talking on a secure line with Mr. Jobs. You wouldn't want to anger the Steve…
Here come the stories now in droves…