A Fond Farewell to Newsvine, NBC, and Seattle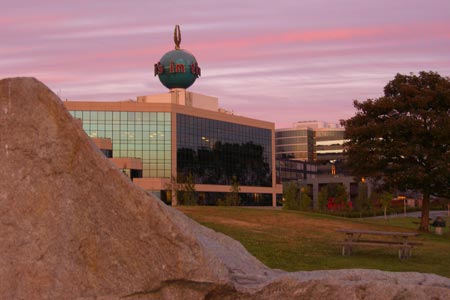 The last time I wrote one of these posts, it was 7 years ago and I was getting ready to leave a great job at ESPN to start my own media company, Newsvine.
The concept was simple: license the same content that anchored the majority of most major news sites — specifically the Associated Press newswire — and marry it with original contributions from citizens around the world, all in an editorless environment controlled entirely by the community. Mainstream journalism and citizen journalism would stand shoulder to shoulder on the same stage for the very first time.
It was only the second startup I had been a part of, but the first I had founded and the first I had run as CEO. Together with my four colleagues, Lance Anderson, Mark Budos, Calvin Tang, and Josh Yockey (in alphabetical order) we set off to change journalism and show how lean a news organization could be run if given the right automation, the right strategy, and the right amount of support and passion from the community.
After two quick and productive meetings with Mike Slade and Nick Hanauer of Second Avenue Partners, we closed our Series A, left our jobs, and jumped off the cliff together.
The first year — from August 2005 to August 2006 — was one of the best times of my life. We raced into private alpha within a few months, then into private beta, and opened the gates to the world on March 1st, 2006. Nowadays, timelines are even more compressed because of mature frameworks like Django and Rails, but back then, we built everything from scratch.
There are lots of stressful moments at startups, but the biggest underlying fear you have in the earliest stages is: will anyone use this? Watching the first people come through the turnstiles those initial few weeks was fascinating. People came to write about politics. People came to write about religion. People came to write about chips and salsa; all on a little site that was originally intended to be a people-powered version of ESPN.
Most of all, people were coming.
There are many wonderful things that have been created because of Newsvine, including 1,238,468 original articles, 4,651,414 seeds, 33,161,638 comments, at least one marriage (my own!), and at least one baby we know about (wasn't me), but the earliest achievements are what I still remember with the most clarity and awe:
… when Corey Spring snagged an interview with Dave Chappelle.
… when Killfile first broke the news of the Virginia Tech shootings.
… when Old Fogey got his name on the ballot for Congress in Ohio and documented the entire experience, providing a civics lesson for conscientious citizens everywhere.
When you create something which directly inspires and enables so many others to create even better things, you feel like you're doing your part to improve the world.
Year two was also quite fun, and together with our 6th employee Tom Laramee (now of Zulily tycoon fame), our marketing lead Jim McGee, our engineering intern Eric Glomstad, and our design intern extraordinaire Bobby Goodlatte (now of Facebook tycoon fame), we grew the site past the point where it could be sustained by such a small staff and such modest financing.
In May of 2007, as we set out to raise a Series B, a funny thing happened.
We suddenly started getting calls from large news organizations. First MSNBC.com across the water in Redmond reached out. Then several others did. Then one night, I had dinner with Charlie Tillinghast, MSNBC.com's president.
The following day, Charlie notified us that he was interested in acquiring Newsvine. Then I traveled across the country and had more dinners. More acquisition offers followed.
The whole acquisition process is an entire post in itself, so I won't get too deep into it here. It involved one of the worst days of my life and several of the best. Let's just say that MSNBC.com was our first choice from the start, and when we signed their official Letter of Intent to acquire us on August 1st — two years to the day after beginning work on the site — the entire team couldn't have been more excited. Joining a world class organization like MSNBC.com, which was then owned by two other world class organizations, Microsoft and NBC, would allow us to positively affect even more people on a daily basis as part of one of the most respected news companies in the world.
I was excited about joining my friend Rex, my then internet buddy Jim Ray (who would later become a great friend and officiate my wedding ceremony), and all of the other people I had met in Redmond while giving controversial speeches to the newsroom about audience participation.
When the transaction closed on October 5th, 2007, the team began a long, successful journey helping modernize an already modern news organization. While we continued to maintain and improve our own product (although admittedly not to the extent we may have wished for), we provided many important services to our parent: registration, single sign-on, trackable threaded discussions, interactive polls, a full content management system, and a large armful of other services. As of the date of this writing, the majority of stories viewed by the approximately 50 million people who visit NBCNews.com every month are served up either directly by the Newsvine platform or touch our software in other ways.
People often say that the majority of acquisitions don't work out, but in this case, I can say with certainty that both the acquiree and the acquirer have been extremely happy with how things have worked out. We have been so happy with NBC that we've stuck around long past our contract dates, and NBC has been so happy with us that they've treated us excellently and made it enjoyable for us to stay.
It's been seven years, however, since beginning work on Newsvine, and when the opportunity to join Twitter in the newly created VP of Design position came my way, I was forced to think about where I could make the most positive impact on the world.
Twitter is at a crucial moment its own life, as well as in the evolution of information and media. It is not perfect, but it represents a new approach to information production, aggregation, and discovery. It's the best window into how we will consume information in a society dominated by the computers we keep in our pockets and on our bedside tables. It already reaches over 140 million people in the world, and it's only scratched the surface of what it could be and what it should be.
There are more thoughts on joining Twitter in the companion post to this post, but I can't close without mentioning three things which I am very sad to be leaving:
Seattle. I've lived here all of my adult life, and until being offered this position, I never thought anything could have gotten me to leave this city. This is quite literally the only position at the only company in the only city that could have done it. I love everything about Seattle (except the Autumn, when all the days start getting shorter and all of the incorrigible Autumn lovers can't shut up about how beautiful the soon-to-be-littering-my-yard leaves are) and I will be back to visit plenty of times each year. I'm keeping the house I've built, keeping my Husky football season tickets, and keeping Seattle at the top of my list of greatest cities in the world. It hurts like hell to leave all of our friends and family up here, but we rationalize it by remembering we'll only be a 90 minute flight away at any given time.
My co-workers at Newsvine and NBCNews. To all past and current members of the Newsvine team, thanks for being the greatest group of people I've ever had the pleasure of working with. I will miss the Wall of Shame, the never-ending supply of prop bets, the walks to Skillet, the impossible hypotheticals, and everything else that makes our office atmosphere great. To my friends within the larger NBCNews organization worldwide, thanks for being such an excellent partner. I will certainly miss being able to say I am a part of the larger journalistic mission we serve every day, across the world, often in the line of fire.
The Newsvine community. This is probably also an entire post in itself, but let me just say that the entire team at Newsvine could not be more thankful and more humbled that so many people choose Newsvine as their home online to discuss issues of importance. Newsvine has never been a place to have your opinions reinforced by your existing social graph. Nor has it been a place for drive-by one-liners. When we show off comment threads with 5000 word well-constructed arguments, some people think our users are crazy. We've always just considered them passionate. Newsvine at its worst is much like many other online discussion forums, but Newsvine at its best is one of the most amazing places in the world to expand your perspective. Its promise today is the same as it was when we launched it: Get Smarter Here. To all of those who have done just that, thank you so much for participating. I'll be looking on fondly from afar to see how the site evolves once I'm gone. It's in good hands.