70 Year Old Newsviner Gets On The Ohio Ballot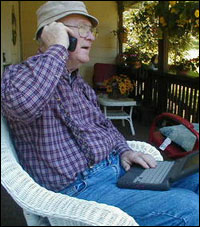 Old Fogey working the phones in Coshocton CountyPeople often tell me that we don't toot our own horn enough at Newsvine. Record traffic, record unique users, a rapidly expanding groundswell of contributors, and we don't issue press releases, pump our chests out, or thumb our noses at competitors every time something cool happens over here.
Every so often, however, something *really* cool happens, and one of those somethings just happened.
Newsvine writer and community favorite Jerry "Old Fogey" Firman has just worked his way onto the Ohio ballot in the race to replace embattled Congressman Bob Ney in the U.S. House of Representatives. For those who aren't familiar with the situation, Ney has been implicated by witnesses in the high profile bribery case involving lobbyist Jack Abramoff and former House Majority Leader Tom DeLay.
So who is this "Old Fogey", you ask?
Well he's a 70 year old retired Army aviator and newspaper man who provides some of the most enlightening and insightful commentary you'll see around Newsvine. Although we think he's giving the site a bit too much credit, he says in his column:
"I must admit that running for any office or even thinking of politics was very far from my mind when I first started to write on Newsvine. Newsvine got me off my duff and made me realize I should be doing something for my friends and neighbors instead of mowing grass and going to Texas for the winter."
Although Newsvine is not in the business of endorsing political candidates, we're more than happy to help spread the word of Firman's candidacy. It's a shining example of the positive effect online communities can have on individuals. Sometimes you don't know what you're capable of until you find the right environment.
No one knows how successful this underdog citizen's bid for an Ohio congressional post will be, but win or lose, we'll learn a lot about the civic process from his candidacy and his column.