The Best Chips in the World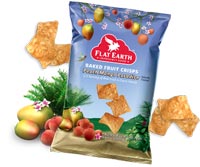 At the risk of turning this into an all food-recommendation blog, my girlfriend found the best potato chips ever at the store the other day. They are called Flat Earth Baked Fruit Crisps and they are the best thing since Sun Chips. In fact, they make Sun Chips taste like dirt.
The only flavor I've tried so far is Peach Mango Paradise and they taste like no other chip out there. Made of rice, potato, apple, peach, and mango, they are flavorful without being salty… a rarity for a chip. There's also a half serving of fruit in every ounce and no trans fat.
Although I've only seen them so far at one store in Seattle (Thriftway), the Flat Earth folks have a handy store locator on their site in order to help you find a bag. Apparently, it's a Frito Lay brand so it should be widely available.
These are game-changing chips. Seriously.