Hi-Ball Caffeinated Mineral Water is Nice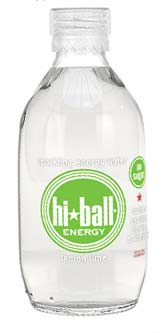 A couple of weeks ago, I ditched coffee. I was generally a one-iced-mocha-in-the-morning guy with the occasional refresher towards the end of the day.
Bad.
Coffee as part of a routine is kind of like cigarettes as part of a routine. It's not exactly good for you, and once you're used to it, you need it just to feel "normal".
Quitting coffee, however, doesn't mean I never want an occasional dose of caffeine. There are all sorts of alternatives out there like Red Bull, Jolt, hot tea, or iced tea, but I think I found my favorite:
Hi-Ball Sparkling Energy Water
Hi-Ball tastes like San Pellegrino or Perrier, is available in plain or lightly flavored, and contains no sugar, sucralose, or other sweeteners. Its caffeine comes naturally from guarana berries and it also contains 120% of your daily B vitamins (whatever those do).
So if you're looking for a reasonably harmless caffeinated drink to try, see if you can find Hi-Ball at your local store. Most places around Seattle don't have it but I've found a few that do.