Someone Predicted this Credit Mess Five Years Ago
Normally, I think of The Motley Fool as one of the most worthless financial sites around, spouting off attention-grabbing, sensationalist headlines just to pull readers into their abyss of mediocre financial articles. Here is a sampling of some typical headlines that have popped up over the past few weeks:
You get the picture.
However, today, a Motley columnist pointed to what may be the most prescient piece of content ever to appear on the site. Fittingly, it came from a reader on a discussion board and not an actual Motley Fool employee.
Here is the discussion board post. It's quite amazing. It's essentially a dead-on calling of the collapse of the bond insurance industry almost exactly five years before it happened. (For those who aren't following, the bond insurance industry — specifically MBIA and a few other companies — has crumbled over the last few months and is threatening to take other pillars of the economy down with it… mostly because of bad subprime debt).
To have called almost this exact scenario five years before it happened is pretty amazing. I'm sure this person wasn't the only one waving a warning flag, but it's an incredibly interesting read.
In looking at the S&P chart below over the last five years, however, it's clear that as bad as this development is, and as accurate as the prediction was, pulling out of the U.S. economy — at least so far — would have been a bad idea. "So far" being the operative qualifier there. :|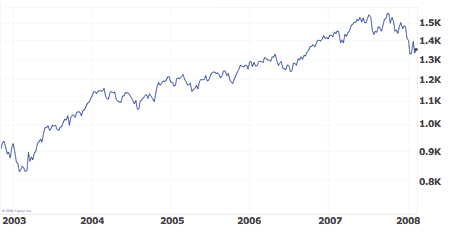 UPDATE: On a related note, this animated primer of the subprime mess is hilarious.