Keeping Up With the Markets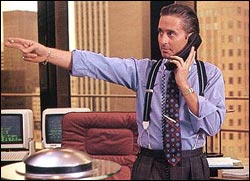 One of the best qualities of great bloggers is their ability to act as filters for entire genres of content; finding great new stuff on the web, formulating insight on said stuff, and then publishing the results for your easy consumption via RSS.
This sort of intelligent content curation is extremely helpful should you decide you are suddenly interested in a subject you previously eschewed.
Interested in modern culture? Try Kottke.
Interested in Apple? Try Gruber.
Interested in media and pop culture? Try Rex.
Interested in emerging technological novelties? Try Waxy.
These sites are all well-known within the geekosphere, because most of the world's RSS feeds are still consumed by us — hyperaware geeks. But what if you find yourself suddenly interested in a subject that is best curated by much less technical people? Something like botany, or philanthropy, or philately. Finding the best source on subjects like these can be tough.
One such subject is investing and personal finance. The financial world is chock full of some of the most uninteresting and meaningless stories on the web. Whenever the Dow drops a lousy 10 points it's "Markets Crushed by Investor Worries". And when it inches upward, it's "Dow Rebounds On Rate-Cut Optimism". These aren't the sort of stories that will do anything for you as an investor. In fact, these days many of them are actually written by computers!
So where is a grasshopper to find the week's most interesting and useful financial observations in one place? My new favorite place for such things is:
Charles Kirk's The Kirk Report
Kirk provides a short post almost every day with some quick market observations and then a bevy of the most interesting financial links he's read throughout the week. Things like how to bet on a dollar rebound by investing in Canadian lumber or what doomsday would look like for the U.S. economy. Interesting stuff.
It's a perfect one-stop-shop for anyone wanting to keep up with market news and insights but lacking the time to check 100 financial news sites every day. I highly recommend it.