Gnomedex: No Stinkin' Badges
Chris Pirillo's Gnomedex conference kicked off last night in Seattle and the turnout looked fantastic. Lots of people from out of town, and a great venue to boot. The thing that pleased me more than anything else at the pre-conference party though was the design of the conference badges. Gnomedex badges are big and bold, with visual real estate doled out in almost perfect proportions. I wrote about the issue of carelessly designed conference badges a few months ago, and upon congratulating Chris on his conference last night, he informed me that the Gnomedex badge design was inspired by that article. Hooray for design evangelism!
Below is a photo of the badges snapped by Laughing Squid: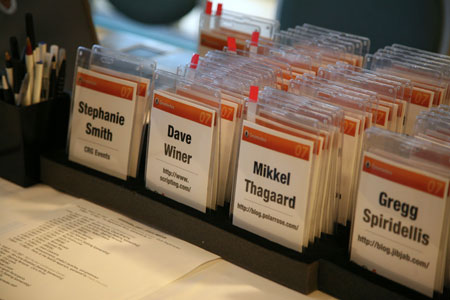 Positives:
Attendee name is huge and readable from far away — set in Univers Condensed Black, an extremely legibile, yet space-efficient typeface.
Attendee's blog URL (instead of company) is listed below name. A nice touch considering the subject matter of Gnomedex.
Title of conference and all other non-essential information is minimized.
Sponsor (Polar Rose) is all over the lanyard instead of mucking up half the badge.
Badge is two-sided.
Potential Negatives (Not many!):
http:// could theoretically be lopped off the blog URL to increase the size and readability of the URL, but one could argue the prefix adds geek appeal.
A commenter on my previous entry suggested perhaps emphasizing the person's *given* name so you know what to call them. This is more important in other countries though where names don't always follow the "call me by the first name you see on my badge" rule. Not really fair to call this a negative, but it would be a nice potential issue to solve.
Oh, and there's another big positive too. This has got to be the coolest badge ever. Party only! —