Pagination and Page-View Juicing are Evil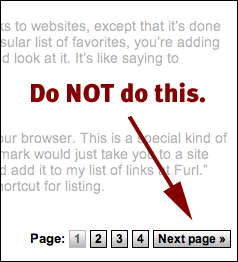 You've seen it a thousand times. You're reading a great article on the web, you get to the bottom of the page, and there it is:
1 | 2 | 3 | 4 | 5 | Next >
The pagination tattoo. The mark of the beast.
Over the last several years, many publishers have convinced themselves that breaking up stories into sometimes as many as ten pages is an acceptable way to present content on the web. The realistic ones at least admit that it's a cheap way to boost stats. The disingenuous (or naive) ones actually posit that they are improving readability and usability for their audiences by reducing scrolling. Because scrolling is so hard.
I've seen both rationales presented by colleagues, and frankly, I'm not on board with either one. There are really only two instances where I find pagination acceptable, and they both seem rare on today's web:
If an article is extremely long. Like 20 screens worth. And even then, it should be broken up by "Acts" and not necessarily word count. Break it up as if it were a play and try to never have more than a few Acts.
Slightly related to item 1, even a short piece can be functionally broken up. Imagine a much shorter version of that great Washington Post article about the violinist in the train station. The article has several video clips strewn throughout. Those would be logical places to either start or end each Act.
Instead, what I'm seeing more and more of is ridiculous pagination for the sake of juicing page views. Take for example this article which was seeded sarcastically to Newsvine the other day. It's from a site called Associated Content. The article is a lousy 1504 words and it's broken up into four pages! I've read cover letters that are longer than that.
How is a reader to endure a user experience like this and feel respected by the publisher? Maybe if I'm reading Malcolm Gladwell, I'll give the guy a break because I'm so lucky to be reading his masterpieces in the first place, but the fact of the matter is that 99% of content on the web (and in the world) is not stuff we'd bow down to, so we should at least hope to be respected as we're trading our attention and associated ad revenue for some reasonably entertaining or educational text.
As the founder of a news startup, I'm fully aware of the constant pressure to increase page views month over month, but at some point you have to ask yourself if the page view is your most important metric over time. If you could choose only one of the following — long term — which would you choose: a user who consistently generates 10 page views a day on your site but spends only 5 minutes with you, or a user who literally stares slackjawed at the screen for two hours a day with your site running on it, generating only one page view?
Your accountants will always pick the former, but you should always pick the latter. In the long run, it's not total HTTP requests that will determine how successful you are. It's what percentage of any given population's attention you earn. Don't blow it by manipulating your readers.