Treo 700P: I Love My Phone Again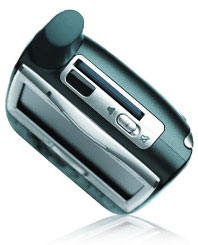 After two happy years with a Treo 600 and a couple of false starts with a Nokia N70 and a Blackberry 8700g, I have finally upgraded to a brand spankin' new Treo 700P. I had to switch from T-Mobile to Sprint in order to use it — which wasn't a thrilling idea — but we'll get to that later.
Following is a mini-review for anyone considering a Treo, as well as a custom skin to make the device a bit more Mac-like:
Interface, interface, interface
The single most important thing to me in a phone is its interface. Not just how the buttons are arranged but how the device interacts with me. Many Palm detractors complain how about little Palm's interface and operating system have changed over the last several years, and they are right… but in my view, that's a good thing. There simply isn't much that needs changing. I loved my Treo 600 interface, and the 700P isn't much different. Faster and more powerful, yes. Confusing and more complicated, no.
The 700P's keyboard is a slight upgrade from the 600's and virtually the same as the 650's. If you aren't very good with T9 typing and you want the best QWERTY keyboard in the business, this is it.
The phone interface itself is typical Palm simplicity. While the iconography and typography could use an update, the navigation is easy as ever. Nothing is more than one-level deep, the menuing works much like it does on a Mac, and most functions are available by using either the touchscreen or key commands.
Since the built-in interface widgets and dialpad appearance looked a little dated to me, I used a combination of two programs and a little Photoshop love to fix the situation.
First off, grab yourself a copy of Palm Revolt and choose the "Aqua Skin" to decrappify the interface widgets a bit. Then, to complete the transformation into a more Mac-like interface, download a copy of Skinner and install this custom dialpad I designed: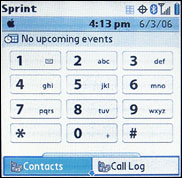 Voila! You've got Mac!
* Note, the above copy of Skinner is a beta for the 700P. It appears to work fine. If you have a 650, you can download the official release here.

The hardware
Treos have never been small devices so if you're looking for something you can slip into that fifth pocket in your jeans, you're better off with a trendsucking RAZR. That said, however, the Treo has always felt great in the hands, due to its curvaceous posterior and balanced weighting. The 700P is heavier than the 600 and about the same weight as the 650. While it's certainly heavier than most Blackberries, it just somehow feels more comfortable.
The device is outfitted in steel gray and silver giving it a sharp, professional look. The screen is extremely crisp and bright, sporting a 320×320 resolution — much better than its Windows counterpart, the 700W. I haven't even had to turn the brightness up past the halfway mark which should do good things for battery life.
The camera is also decent. I haven't historically taken a lot of cameraphone pics, but I might start. Below is a sample snapped from Mike Industries Headquarters (click for the full-resolution version):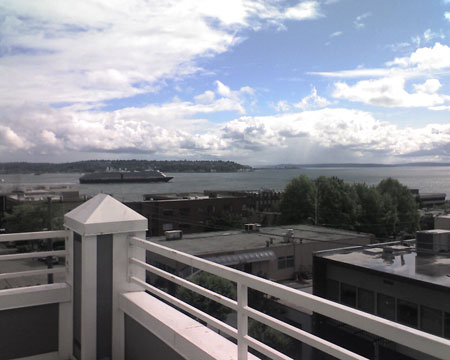 Call quality
So far, the voice quality on the 700P has been impeccable. I made a call to test out the speakerphone and the person on the other end couldn't even tell he was on speaker. Your results may vary depending on your carrier and coverage zones, but so far the 700P has been a big upgrade over the 600.
E-mail and applications
One of the main reasons I ended up returning my Blackberry was its inability to handle IMAP email syncing properly. The Blackberry is a great device if you use the Blackberry Enterprise service, but for syncing with regular e-mail accounts, it (like 99% of other phones on the market) doesn't work too well. The Treo, however, syncs perfectly with both my Mike Industries and Newsvine e-mail accounts via the magic of Versamail's built-in IMAP support. No software to buy, no monthly fees… it just works.
Sprint's EVDO high-speed data service has made the Treo's Blazer browser a bit more fun to use, but I must admit I'm still not a huge fan. I installed Opera Mini for comparison and although I like it a bit better, it crashes every time I try to modify preferences. For some reason, Pocket IE still seems to be the best mobile browser on the market, perhaps recently eclipsed by Nokia's WebKit-enabled browser.
Oh, and did I mention I can also watch TV on this thing? Did I also mention I can't imagine myself ever really doing so?
Other nice applications I've installed so far include KMaps (a mobile interface into Google Maps) and Traffic (a live map of current freeway traffic conditions).
Syncing
Syncing is unfortunately where a lot of phones fail to deliver, at least in terms of interfacing with a Mac. The 700P, however, syncs flawlessly with no additional hardware. Not having to use a cradle is a nice improvement over the 600, but I do wish there was a way to sync over the air. It's just data, right? You'd think someone could design a conduit where both your computer and your phone would sync to a repository stored somewhere on your server.
Sprint
I had been with Sprint before switching to T-Mobile a couple of years ago (ironically enough, in order to get a Treo 600) and they weren't bad, but I didn't really like the idea of leaving T-Mo. Maybe it's subconscious lust for Catherine Zeta-Jones or just the fact that the company's customer service was always great to me, but I felt bad for leaving. My final phone call to T-Mo was almost like breaking up with a girlfriend ("It's not you. It's me.").
While the call quality and data speed of my new Sprint service seems very good, all dealing with customer service thus far have been atrocious. I don't even want to get into it but let's just say that I've already had to physically go to a Sprint store three times because customer service told me to. During all three visits, I've been told to call customer service from the store, and during one of the visits, I was actually told to walk 5 blocks to another Sprint store because they couldn't look up my account.
This is not just a question of the right hand not knowing what the left hand is doing. This is the right hand not even knowing that it's a right hand. I could go on and on about how awful Sprint customer service is, but so far my actual phone service has been great, so I'm just going to hope I don't need a lot of support in the future.
Final analysis

If you already like Treos, you will love the 700P. If you hate your current smartphone, you may also love the 700P. It's probably the best device Palm has ever produced.
That said, however, there will be some detractors. I'm sure you can probably do 1000 more things on many WindowsMobile-powered phones. Which of those 1000 things do you really need though? For each feature you add, you also add complexity and more things that can break. I look at all the things I'd ever need to do on a phone and they are all already there on the 700P: Phone and camera functionality, e-mail, texting, web browsing, high-speed data transfer, music, video, calendaring, syncing, Bluetooth, and a nice interface. What else is there?
The more I use this Treo, the more I'm convinced that when Apple releases its first phone, I probably won't jump to get it. I envision it being a much simpler, much less powerful device, and I'm just not a simple flip-phone guy anymore. If there is a more business-oriented model in the lineup, that would be eye-opening, but until then, I'm sticking with this bad boy.