Blackberry 8700g: The Dreaded Sidegrade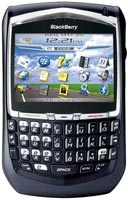 Yesterday, I went out and bought a brand-new Blackberry 8700g at my local T-Mobile store. I've been using a Treo 600 for more than two years now and I just couldn't resist New Phone Fever for any longer.
I had skipped the Treo 650 because frankly, it didn't seem much better than the 600, and I was planning on going straight to the Treo 700 until Palm pulled two unfortunate moves on me:
They released the Treo 700W a few months ago and it runs on WindowsMobile, leaving me only with tantalizing reports of a "Treo 700P" which would come out some time in the future and run on Palm's OS. Such a painful wait this would be.
When the Treo 700P was finally announced a few weeks ago, it was revealed that it would only run on Sprint and Verizon for the time being, again with the excruciating announcement that a GSM (T-Mobile) version was "in the works".
Given that I didn't feel like waiting who-knows-how-long for a GSM Treo 700P, I had a few options:
Switch to Sprint and get the Treo. I've used Sprint before and they were nice enough to send me free stuff through their Ambassador Program so I don't have any problem with this, but I have a few months left on my T-Mobile contract and I'm not exactly dying to leave T-Mobile anyway since they are quite good.
Wait an indeterminate amount of time for Nokia's E70… and given my lack of love for their N70, have no guarantee I'll actually like it.
Extend my contract with T-Mobile and pick up a shiny new Blackberry 8700g — a phone which has gotten pretty good reviews.
I'd been wanting to try a Blackberry for awhile since just as many people swear by them as swear by Treos, so I chose option #3.
After playing with this thing for about a day, I am convinced it falls into the category of a dreaded "sidegrade". That is, a device which is an upgrade in some regards and a downgrade in others. For this reason, I may not keep it past the 14 day trial period. For those of you thinking about getting a Blackberry 8700g, here are the positives and the negatives (at least compared to a Treo):

Positives
The web browser is nicer. Pocket IE, Pocket Opera, and Pocket WebKit are still the best mobile browsers out there, in my opinion, but this Blackberry browser beats the Treo's handily. I understand the 650's and the 700P's browsers are better than my 600's, but to me, this is an upgrade.
The Blackberry's jog-dial is a nice way to quickly scroll through lists. It does have its faults though and will also be mentioned in the Negatives section.
It's much lighter than the Treo.
The screen is bright, clear, and auto-adjusts to ambient light.
The version of Google Maps I'm using on this phone is spectacular. I'm not sure if this version is available for other devices besides the Blackberry (it very well might be), but it's really cool. You can plot driving directions and zip through them one by one as you're driving and the map follows along gracefully. I've always hated using my Treo to track directions because it's just a long text list of where to turn and it's easy to lose your place.
Built in IMAP e-mail support. I am not using a Blackberry Enterprise server and I can still retrieve and sync my IMAP email from Dreamhost. This is probably the most important feature in a device for me (besides basic phone and PDA functionality), but unfortunately it's not perfect. It only syncs your inbox and doesn't deal with subfolders at all. I'm not even really sure how well it syncs your inbox yet at this point. Seems to work adequately, but not the perfection I'd like to see in a device like this. Why is IMAP syncing so hard? There are third-party apps on the Treo which do it just fine. I suspect the synching might actually be occurring through a T-Mobile relay service but I'm not sure. That would kind of suck.
The call quality is quite clear. My Treo 600 is very old and its clarity is beginning to degrade, but this thing sounds quite solid.
The calendaring application, much like the Treo's, seems straightforward and easy-to-use.
Negatives
The biggest negative to me is just the general interface principle of the Blackberry. It's not terrible, and it's probably better than most phones on the market, but it's no Treo. The Treo feels like a little Mac in many ways. You can point, click, drag, select, and move your way around the entire operating system much as you would on a personal computer. And unlike WindowsMobile, the experience is simplified just enough to save you time yet retain enough power to get things done. I'm still figuring out all that is weird with the Blackberry interface, but two things are killing me right now: 1) The famed jog-dial is also a button. However, you always have to click it twice because it acts more like a right-click button, pulling up a contextual menu on first click. 2) There is no concept of "Select All" seemingly anywhere within this device. I wanted to delete my entire Address Book and start over. I couldn't Select All and then delete, nor could I find a programmatic way to clear everything, so I had to delete 350 entries one by one. These sorts of holes seem to exist all around this device. Maybe I'm missing something, I don't know.
Multi-protocol Instant Messaging is included on this phone, which I thought would be great, but it turns out it's not real IM. The device basically converts your messages to SMS, sends them off, and vice-versa. The result is a less-than-perfect experience with your presence not always showing up correctly on the other side. It's a start, I guess, but I don't envision using IM on this phone a lot.
There is no touch-screen. The Treo is very nice in that you can scroll around or touch around. With the Blackberry, it's the jog-dial or nothing.
Synching this phone with my Mac isn't terrible, but it's a baby step below what the Treo was capable of, and the Treo wasn't great either. Despite this device having Bluetooth, the PocketMac software used to sync it does not support it, so it's back to the wire unfortunately. A big draw of moving to a Treo 700P for me was Bluetooth synching. This phone, much like the Treo, does not handle Address Book groups very well. As a result, you end up just having one huge list of people in your phone… many of which you may only have e-mail addresses and no phone numbers for. It seems to handle iCal synching fine though, just as the Treo did. I'm bummed that the whole world of Mac synching isn't more open source. How hard could it be to write something which handles Address Book groups correctly? This is a major problem for many Mac users.
Not that this is a huge deal but the T-Mobile version of this phone just isn't that sexy. It's a boxy, dark-blue plastic device that makes the Treo look like a brand new Powerbook.
Conclusion
In the end, I have to ask myself exactly what problems this device solves for me. I'm dying for a new phone so it quite obviously solved that. But aside from just "being new", it didn't really improve my data synching situation, my e-mail situation, my IM situation, or really much of anything else. Call quality is a bit of an improvement but I pin that on the age of my Treo 600 more than anything else. The Google Maps mobile version is nice, but I imagine this isn't a Blackberry-only thing. To me, this seems like a Blackberry that current Blackberry owners will like, but that's about it.
As of now, I'm leaning towards returning this thing and toughing it out for the Nokia E70 or the Treo 700P. To complicate matters even further, there is a Treo "Hollywood" that is supposed to come out this year as well.
There is probably only one company that could save me this sort of agony over phone selection and I don't even need to tell you who *that* is.
UPDATE: The plot thickens. It appears that all devices which use the newest version of the Symbian OS can sync multiple IMAP folders! This includes the Nokia E70 (not out), the Nokia E61 (out), and two super-sexy Sony phones that aren't out yet – the p990 and the m600. I'm very tempted to get the E61 now. The two Sonys are much sleeker but they will probably be extremely pricey and who knows when they are coming out.
UPDATE #2: I just ordered the Treo 700P and will be switching over to Sprint in order to use it. I think the Nokias and the Sonys would have been "adequate" but I fear I would still, in the end, miss the interface niceties of the Treo. Also, Sprint's EVDO network is a big speed upgrade over EDGE.