iPod Giveaway #4: We Have a Winner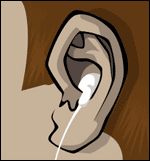 John Whittet (whose illustration is to the right) said it best when he clarified the purpose of the 4th Monthly Mike Industries iPod-A-Monthly Creativity Competition:
"This particular contest is about telling a story, not writing one."
With 60-some entries to read through over the last week, I encountered a great many well-written ones, but none told the story of a lost iPod more creatively and convincingly than the audio-blog-umentary by Ohio State University's very own Josh Schoenwald.
You see Josh bought a very special iPod Shuffle about a month ago; one that not only had a personality but was also smart enough to set up its own account on Blogger, keep an audio diary, and even fade U2 songs into the ends of its blog posts. "Flit", as Josh calls him, is no ordinary Shuffle.
As of today, I'm happy to say that Flit is indeed in my possession and will be returned to Josh first thing tomorrow morning along with a pair of $150 Etymolic earbuds courtesy of iLounge.com (formerly iPodLounge). Congratulations Josh!
I also want to draw attention to a few other spectacular entries of note, the first one being John Whittet's amazingly well illustrated animated docudrama entitled "Little White Cookbook". John produced some amazing visual effects by overlaying his own hand drawn figures against a backdrop of photos pulled from Google Images and then Gaussian blurred. It's a really cool effect and one I'd never seen before… you can read more about it here, and perhaps hire John for any illustration projects which require such awesomeness.
Another standout was Paul Santolaria's take-off on one of my favorite films "A Shot in the Dark" starring Peter Sellers as Inspector Clouseau. Very creative and extremely well done.
My favorite two pure text entries (which each were worthy of first prize) were David Barrett's account of his iPod-Shuffle-turned-pregnancy-test and Kat's hilarious yet tragic home mugging.
There were five others I found very amusing as well, but I'll leave those a mystery.
Thanks to everyone for entering, and the next contest will launch around the middle of this month!