ESPN Motion for Firefox Launched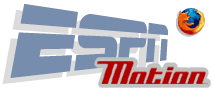 Hot on the heels of the ESPN Motion for Mac release a couple of days ago, we've now enabled Motion for PC Firefox users as well. Just head to the ESPN.com front page and you'll see your video selections in the sidebar running down the right side of the page. The sidebar, of course, follows you from page to page on ESPN so you can really access Motion from anywhere on the site.
Although I'm not really supposed to comment on these sorts of things, let me just say that the initial release of ESPN Motion for Internet Explorer a little over a year ago had nothing to do with the sorts of nefarious theories put out by a few ill-informed reporters. One reporter attempted to knock ESPN for not supporting web standards because Motion didn't work on Firefox, when in reality, not only do we lead the charge towards web standards in our category, but Motion was clearly a "bonus" feature to the site and it was only made possible by technology not available in Firefox. Another reporter falsely concluded that the setup had something to do with our then partnership with MSN. Again, not true.
The initial release of ESPN Motion for Internet Explorer was strictly an issue of prevalent technology. ActiveX, for all of its shortcomings, provides a clear filesystem I/O which allowed us to download and store high quality video on users' machines without any detrimental side effects… the downside being that it was only implementable in Internet Explorer.
Anyway, enough of that. Motion is now freely available to all. Happy?