ESPN Motion for Mac Launched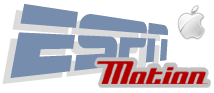 With our last redesign in 2003, ESPN.com launched a revolutionary video feature called "ESPN Motion". By downloading high quality video transparently to users' hard drives, we were able to give our viewers, free of charge, some of the highest quality video on the web, with no waiting, no buffering, and no noticeable encoding artifacts. With a simple installation of the little ESPN ActiveX control, users could watch freshly cut ESPN video right within our front page.
Well, it's been a little over a year now, and there have been over 3 million downloads of the ESPN Motion installer with hundreds of thousands of active users viewing video every day. Through this trial, it became apparent that given high enough video quality and a wide enough selection of cuts, there really is a place for this sort of multimedia on the web, if you do it right.
Part of "doing it right", however, is serving the largest audience possible. When we initially launched ESPN Motion, we had to limit the audience to Internet Explorer users on the Windows platform. This limitation was strictly a technological one, as the easiest way to download and access video on a user's hard drive is by using ActiveX. With this in mind, we designed and engineered our own patent-pending ActiveX control to serve video to all Disney sites. With a 95% market share (for now at least), PC Internet Explorer accounted for the great majority of Disney and ESPN users, so this initial release of Motion at least served most of the market.
Now that Motion has proved to be such a popular addition to ESPN.com, it's time to bring the feature to our beloved Mac users. We run a ton of Macs at ESPN and Disney, not just in the design department but in engineering as well. With this in mind, the teams in New York and Bristol today bring you ESPN Motion for Mac. By utilizing Flash MX video and plenty of fancy DHTML and CSS goodness, Mac users are now able to view ESPN Motion video without even downloading an installer. In this user's opinion, it's an even better experience than the original.
So head on over to the Mac Motion showcase to check it out, or just go to the ESPN front page and look for Motion in the right-hand sidebar.