Another Nail in the Pageview Coffin
This weekend, msnbc.com launched a sweeping redesign of the most important part of their site: the story page. The result is something unlike anything any other major news site is offering and is a bold step in a direction no competitor has gone down (yet): the elimination of pageviews as a primary metric.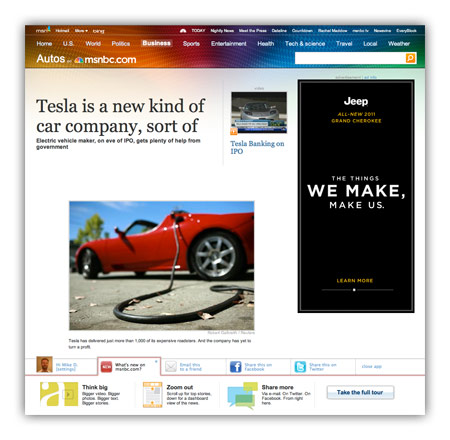 For many years, I've railed against tricks like pagination and "jump pages" as a means to goose pageviews. Honest people in the industry will tell you these are simply acceptable tricks to bump revenue a bit, while disingenuous or uninformed people will use "readability" as an excuse to make users click ten times to read ten parts of a single story. For this latest redesign, msnbc.com has decided to de-emphasize page views entirely and present stories in a manner that maximizes enjoyment and as a result, total time on site.
What do I mean by this?
Think of how a typical user session works on most news sites these days. A user loads an article (1 pageview), pops open a slideshow (1 pageview), flips through 30 slides of an HTML-based slideshow (30 pageviews). That's 32 pageviews and a lot of extraneous downloading and page refreshing.
On new msnbc.com story pages, the above sequence would register one pageview: the initial one. The rest of the interactions occur within the page itself. Can msnbc.com serve ad impressions against in-page interactions? Sure, and that's key to the strategy, but as a user, your experience is much smoother, and as an advertiser, the impressions you purchase are almost guaranteed to come across human eyes since your ads are only loaded upon user interaction.
This is the first time (to my knowledge) this sort of model has been deployed on a major media site with over a billion pageviews a month, and it has the potential to change the entire industry if it works. It's also a big risk, as most advertisers are not used to thinking of inventory this way. We like big risks with big payoffs though and we feel that when you take care of the user and the advertiser at the same time, you're probably onto something.
Ad model aside, there are also tons of other interesting things about the new msnbc.com story pages:
Every form of storytelling (text, video, audio, slideshows, discussion, voting, and more) is now available right within each story page itself.
The top navigation (nicknamed "the upscroll") contains all basic elements when a page loads but if you scroll the page upward past its initial position, you get more interesting stories to read. It's a great way of presenting a content-packed header without sacrificing screen real estate.
A social bar at the bottom of the screen, powered by Newsvine, which lets you easier share content via Newsvine, Facebook, Twitter, and other services.
An "annotated scrollbar" down the right side of the screen capable of teleporting you to any section of the page you desire.
Bigger, easier to read text. Goodbye Arial, once and for all!
To be clear, the msnbc.com team is very proud of what's been launched so far, but is under no illusions that things are perfect yet. Everyone involved in creating these new story pages is monitoring reaction closely and ready to modify anything that needs improvement. Since we have plenty of thoughtful design and development voices here on Mike Industries, I'd love to open this thread up for some reactions. What is working for you, and what, if anything, would you change? The team is listening.