Here Lies Flash
In just a few short days, on December 31, 2020, we will say our final goodbyes to one of the most important internet technologies that ever lived: Flash.
I remember vividly the first time I saw Flash on a computer screen. It was 1997, I was finishing up college, and I had managed to teach myself enough HTML to think about pivoting from print design to interactive design as a career.
Web design, at the time, was a clumsy beast. Most web sites were essentially Times New Roman black text on a grey background with an occasional low-quality image here and there. The "design" part was often just figuring out how to best organize information hierarchies so users could feel their way around.
Once we got bored of basic HTML (there was no CSS at the time), we started doing unholy things with images. We'd set entire pages in Photoshop, slice our layouts into grids of smaller images, and then reassemble everything into a clickable mess. These were dark times.
My college, having invented PINE, was considered "on the front edge" of the internet at the time. Here's is what our site looked like back then: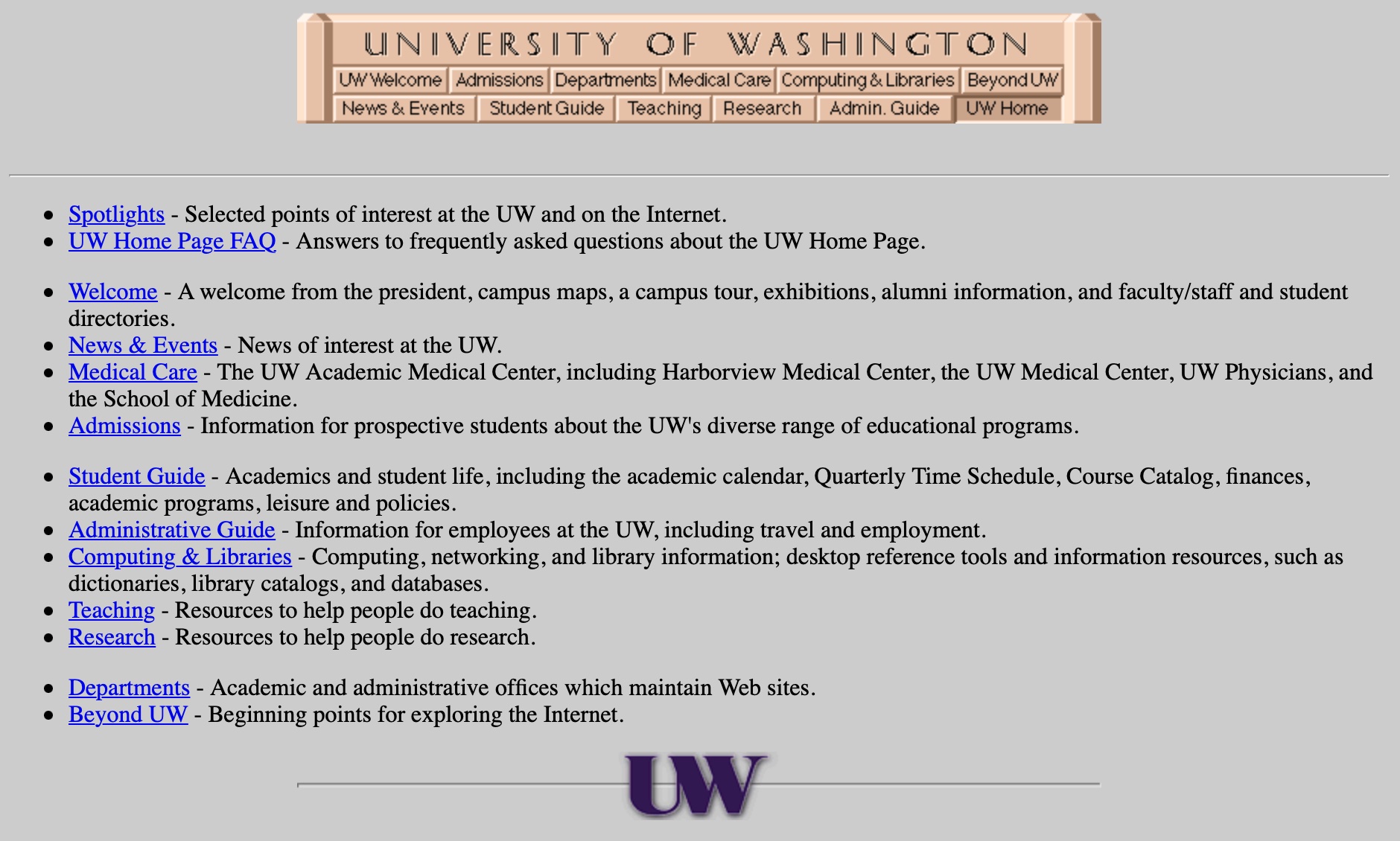 Even the most beautifully designed sites felt a bit lifeless, and once someone came up with a new layout that worked well, everyone would just ape it. To make matters worse, every new advancement in methods required more convoluted hacking to display correctly across Netscape, Internet Explorer, and every other fringe browser in use at the time. It was a total mess.
Here is the first version of Zeldman.com I could find, from 1998. Amazing for the era, and holds up impressively in a nostalgic, cyber-Americana sort of way, but you can see how limited we were by screen widths, color palettes, and layout technologies.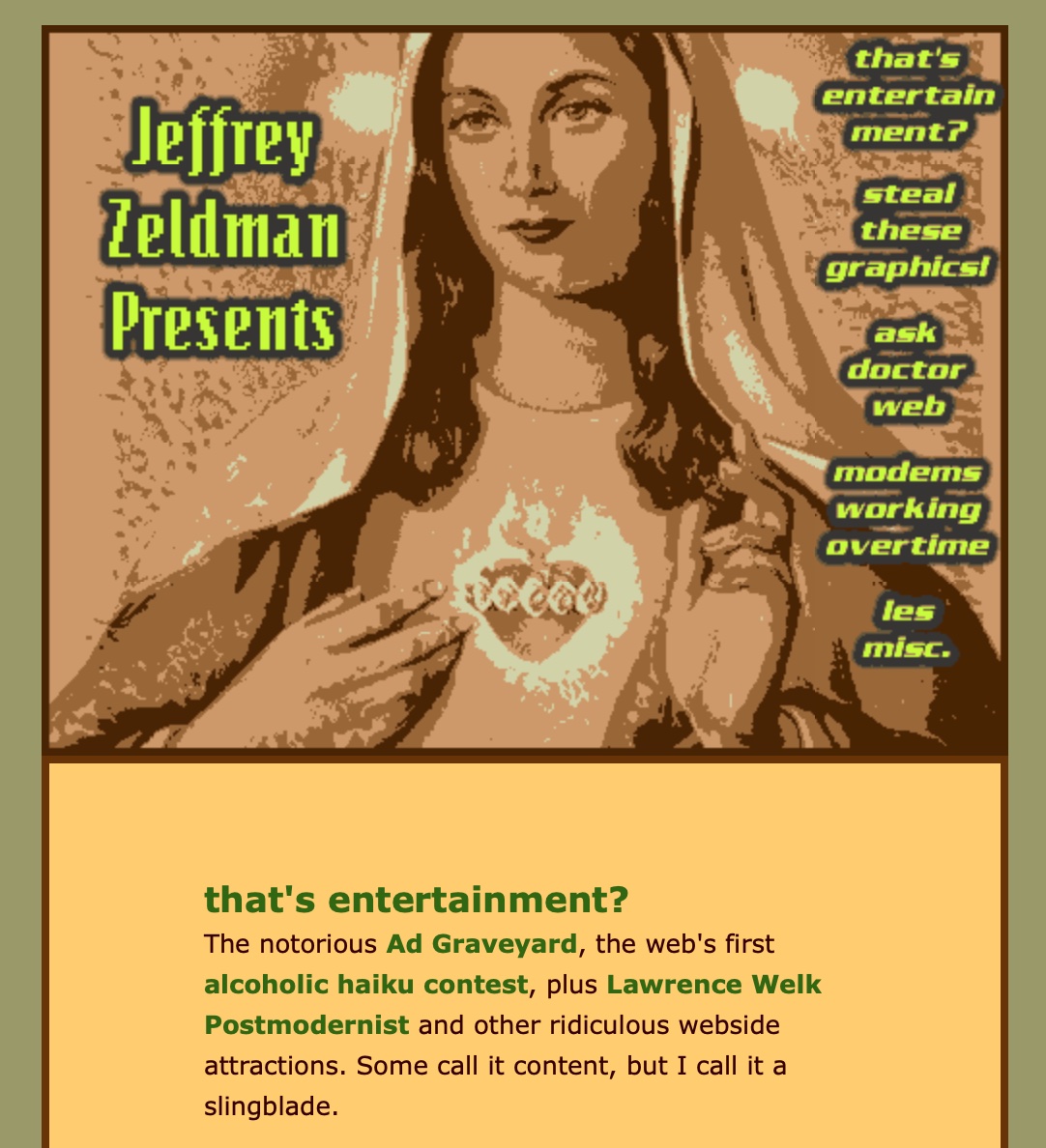 Then one day in 1997, I clicked on a link to Kanwa Nagafuji's Image Dive site and the whole trajectory of web design changed for me. It looked like nothing I had ever seen in a web browser. A beautiful, dynamic interface, driven by anti-aliased Helvetica type and buttery smooth vector animation? And the whole thing loaded instantly on a dial-up connection with nothing suspicious to install? What was this sorcery? Sadly, I can't find any representation of the site online anymore, but imagine the difference in going not just from black-and-white TV to color TV, but from newspaper to television.
Nagafuji's work was such a huge, unexpected leap from everything that came before it that I had to figure out how it was done. A quick View Source later revealed an object/embed tag pointing to a file that ended in ".swf". A few AltaVista searches later led me to the website of Macromedia, makers of ShockWave Flash ("SWF"), the technology that powered this amazing site.
I downloaded a trial version and was blown away at the editing interface. Instead of a shotgun marriage of Photoshop, HTML, browser hacks, and a bunch of other stuff that felt more like assembly than design, here was a single interface to lay out text, shapes, images, and buttons, and animate everything together into an interactive experience! It was magic.
After mucking around in the Flash editor (version 2 at the time) for a few hours, I did what every self-respecting web designer would do and immediately set out to find other cool stuff to copy. Over the course of the next several months and years I would find such gems as:
Yugop from Yugo Nakamura
Once Upon a Forest and Praystation from Joshua Davis
Nose Pilot by Alex Sacui
Natzke.com by Eric Natzke
Presstube by James Paterson
Gabocorp from Gabo Mendoza
John Mark Sorum by WDDG
2Advanced by Eric Jordan
NRG Design by Peter Van Den Wyngaert
The Hoover Vacuum Site by Fred Flade>
… and of course, everything by Hillman Curtis (Rest in Peace)
(Sadly, much of this work is hard to relive due to Flash already being disabled in many browsers. I've tried to point to video demos where possible, but you can also try your luck with the Ruffle plug-in.)
From there, a bunch of us new designers set out to learn more about animation, type, scripting, and everything else that put you at the vanguard of the profession in those days. Flash was the first technology that showed us we could be great.
My initial effort was mdavidson.com, a rudimentary personal site that was the precursor to Mike Industries: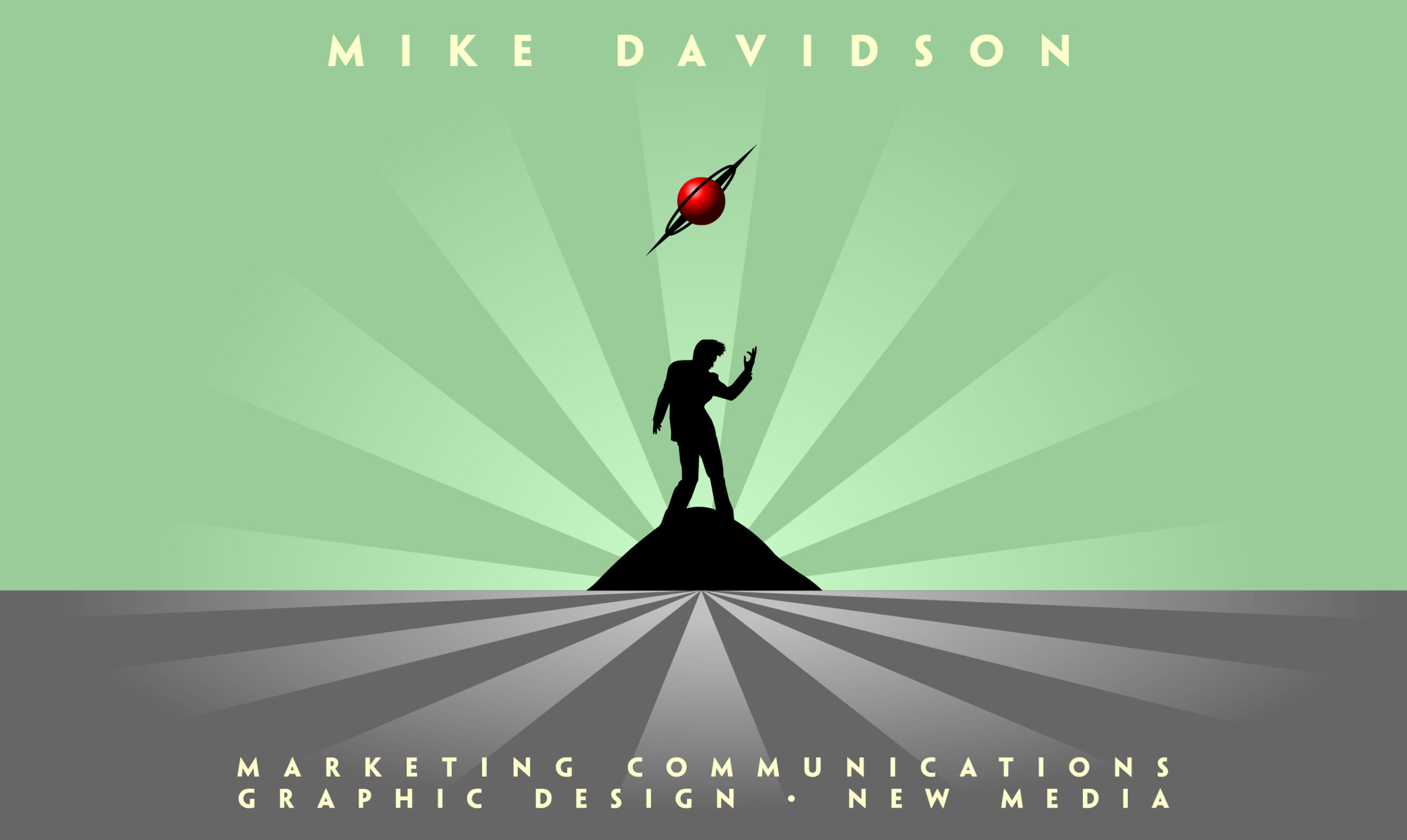 From there, I would move on to design Flash sites and features for ESPN, Disney, K2, The New York Rangers, and dozens of other organizations, never matching the quality of the masters listed above, but always breaking new ground in one way or another.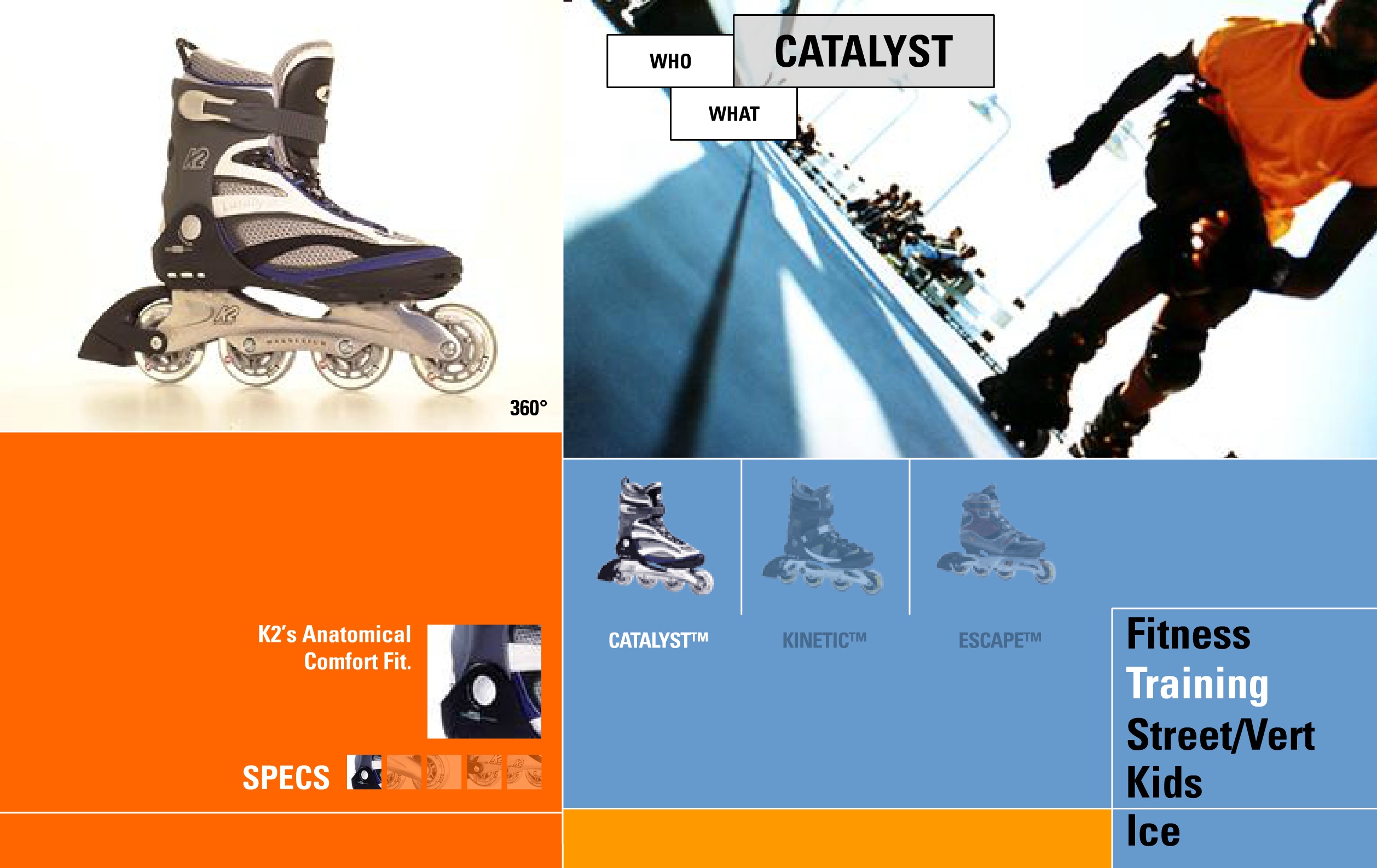 Other fun projects I collaborated on with my friend Danny Mavromatis included a virtual observation deck for the Space Needle, an interactive on-demand SportsCenter, and a Disney movies-on-demand service fully 20 years ahead of Disney+! All in Flash.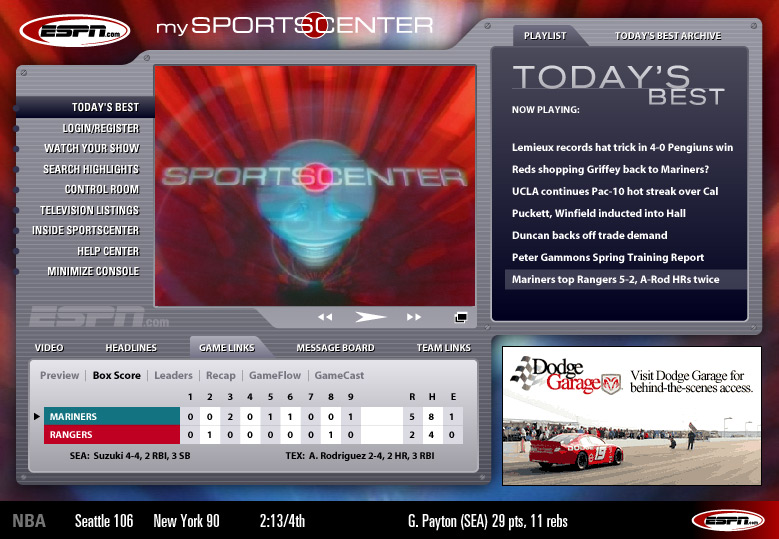 Perhaps the thing that gives me the most joy though is something we built and gave away for free: sIFR. What started as our brute-force attempt to use Akzidenz Grotesk for headlines on the front page of ESPN, turned into a more elegant implementation by Shaun Inman, which then turned into a scalable solution by Mark Wubben and me. We poured hundreds of hours into sIFR not to make any money but just to advance the state of typography on the web.
Over the next several years, sIFR was used to display rich type on tens of thousands of web sites. Although it relied on Flash, it was standards-compliant and accessible in its implementation, so it was the preferred choice for rich type until Typekit came along in 2009 and obviated the need for it.
All of this is to say, the role Flash played in helping transition the web from its awkward teenage years to a more mature adulthood is one I will always appreciate. And we haven't even talked about its role in game development.
When discussing the life and death of Flash, people often point to Steve Jobs' "Thoughts on Flash" as the moment things turned south for it. Worse yet, the idea that "Steve Jobs killed Flash". I don't think either of those things is actually true.
Flash, from the very beginning, was a transitional technology. It was a language that compiled into a binary executable. This made it consistent and performant, but was in conflict with how most of the web works. It was designed for a desktop world which wasn't compatible with the emerging mobile web. Perhaps most importantly, it was developed by a single company. This allowed it to evolve more quickly for awhile, but goes against the very spirit of the entire internet. Long-term, we never want single companies — no matter who they may be — controlling the very building blocks of the web. The internet is a marketplace of technologies loosely tied together, each living and dying in rhythm with the utility it provides.
Most technology is transitional if your window is long enough. Cassette tapes showed us that taking our music with us was possible. Tapes served their purpose until compact discs and then MP3s came along. Then they took their rightful place in history alongside other evolutionary technologies. Flash showed us where we could go, without ever promising that it would be the long-term solution once we got there.
So here lies Flash. Granddaddy of the rich, interactive internet. Inspiration for tens of thousands of careers in design and gaming. Loved by fans, reviled by enemies, but forever remembered for pushing us further down this windy road of interactive design, lighting the path for generations to come.
RIP Flash. 1996-2020.
If you feel so moved, pour one out for our old friend in the comment section below.