Better E-Commerce Design using the Luhn Algorithm?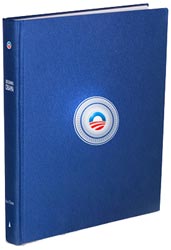 I finally put in my pre-order for SimpleScott's Designing Obama book a few minutes ago. I wanted to buy it earlier but never overcame the inertia until I got a chance to have beers with Scott and then listen to him speak at the excellent Webstock conference in New Zealand last week (by the way, thanks to Khoi Vinh for asking me to step in for him as a speaker). Can I also just say that Webstock is the best designed conference I've ever seen?
Scott's a great designer, obviously, but hearing about the care that's going into just the production of the book is going to make this piece of art a must-have. I may even order two and keep one suspended in formaldehyde.
While ordering the book, one part of the process stuck out to me as something I'd never seen before, even having ordered probably a thousand items online in the past: when I typed in my credit card number, a green checkmark showed up immediately after the last digit was entered. My immediate suspicion was that they were counting digits and gave me a check to indicate I had typed in enough of them, but again, having never seen that before, my interest was piqued. I tried deleting the last digit and replacing it with a 1, then a 2, then a 3, and so on. Only when I typed the actual digit from the credit card did I get the green checkmark again.
Further investigation revealed that no server calls were being made, which means this was some sort client-side algorithm that verified credit card patterns. Iiiiiiiiiinteresting!. Even more investigation revealed that this was the work of something I'd never heard of: The Luhn Algorithm.
The Luhn Algorithm is a formula which can be run in javascript, PHP, and most other programming languages that uses some mathematical rules to determine if a credit card number is likely to be valid. Apparently, credit card companies issue numbers according to this algorithm, and if a number doesn't fit it, it's definitely not valid. Before you say to yourself "wow, that's some neat, new technology I can use!", note that the Luhn Algorithm has been around since 1954!
Although using this algorithm in your own projects is clearly not a necessity, I see a couple of potential advantages and a couple of potential disadvantages:
Advantages
Instant UI feedback is a great tool to help users correct errors
The checkmark is a nice bit of instant emotional validation to make sure users complete the process
Disadvantages
Is there a guarantee that every card will always follow this pattern? What happens if one or many stop following it?
Since it's an unusual experience, does it add a bit of suspicion in some users? Would a less technical user assume their number was being broadcast across the internet more times than necessary?
I'm curious to see if this catches on as a trend.