What affects the taste of tap water?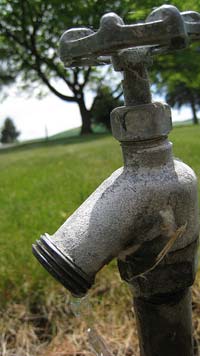 I don't drink a lot of water, mainly because I've never really loved the taste. That, and I've always thought the whole "8 glasses a day" thing is bullshit. On a trip to Walla Walla wine country a couple of weeks ago, however, we stopped in a quiet little town called Waitsburg that is a dead ringer for Radiator Springs (from the Pixar movie "Cars"). We had a delectable dinner at the phenomenal Jimgermanbar but perhaps the most amazing part of the meal for me was the tap water. It was the first time in my life I ever remember thinking to myself how great a glass of water tasted.
Pure, zero flavor wetness without even a hint of aftertaste. Even at room temperature.
I asked our waitress about it and she said people comment about it a lot so I had her pour me two magnum bottles full and I brought it home (well, Tiffehr brought it home). Upon arriving back in Seattle, I had a few co-workers taste it and they also had positive reviews. Then I did a blind taste-test at home and it won with flying colors.
I'm now reasonably sure this is the best water I've ever been in the presence of, so of course my curiosity continues to grow. In researching the peculiarities of water taste, I came across this great but suuuuuuper fugly article explaining how minerals and other things affect the taste of water. Hint: use this readability widget to decrappify the layout.
Lots of interesting stuff in there. I'm convinced this water is extremely pure and contains very little mineral content, and now I want to have it tested. Anybody know what the easiest way to do this is? Are there local labs that will charge you a few bucks to quench your obsessive curiosities? If so, I'm all over it… and will report the results back here of course.