My Vote for Most Amazing iPhone App: Midomi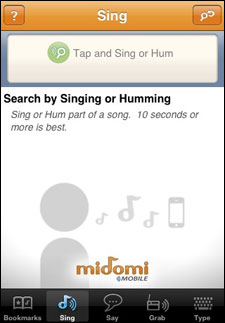 The iPhone app universe is getting larger and larger everyday, but much like the blogosphere, tumblrsphere, and twittersphere, it's mostly crap. Maybe crap is too strong a word. Perhaps "marginally interesting" is a better euphemism. There are thousands of unit convertors, restaurant recommenders, sports scoreboards, and other mind-numbingly obvious utilities that are simply mobile versions of things we've had on our desktops for over 10 years.
But then, there are the small handful of special apps that make you intimately aware of the transformative potential of mobile devices. There are probably less than 10 of them. As for as Apple endorsed apps, it's maybe Google Maps (with GPS) and Remote. That's about it. Currently, I have 22 third-party apps installed (most of which I rarely use) and only one of them is something I would describe as amazing: Midomi.
For those who haven't downloaded Midomi yet, it's a little app that let's you identify songs in one of five ways:
Holding the phone up while music is playing ambiently somewhere, like in a bar (Amazing)
Singing into the phone (Even more amazing)
Humming into the phone (Mind-numbingly amazing)
Speaking into the phone (Less amazing)
Typing into the phone (Not amazing at all)
I remember when a similar app called Shazam came out, and I tried using it to identify some songs on the radio and it didn't seem to have too many songs in its database, but now, both Shazam and Midomi seem to have every song on earth cataloged. Being able to instantly identify (and purchase) songs wirelessly whenever and wherever you hear them is — for my money — the most impressive use of the iPhone I've seen. It's simply magic.
But that's only the beginning…
Where it really starts to get fun is the singing and humming. I'm convinced Midomi is the gateway drug to karaoke. I hate karaoke. I hate doing it myself and I hate watching others do it, unless they are awesome (i.e. fewer than 10% of people) and sing awesome songs (i.e. not Blondie or Gloria Gaynor). All the hate aside, I found myself singing and humming songs into my iPhone for over an hour last night, marveling at how it could magically decipher my awful tone-deaf chirping. Yes there was a little bit of alcohol involved. Don't judge.
But the fun doesn't end there! As soon as you belt out "and she's buying a Stairway to Heaven", Midomi doesn't just identify it… it presents you with the same segment of the song, as sung by other anonymous Midomi'ers, so you can listen to how other people recorded it. The results are beyond entertaining.
As you can imagine, this is a diversion best performed outside the earshot of other human beings, and after a few drinks, which makes it a perfect activity for introverted alcoholics. And yet, at the same time, I could see it being turned into an entertaining party game: first person to sing or hum into the phone and not have their song recognized loses.
Anyway, if you haven't downloaded Midomi yet, I highly recommend it. Are there any other apps out there that you consider truly amazing?