Russ.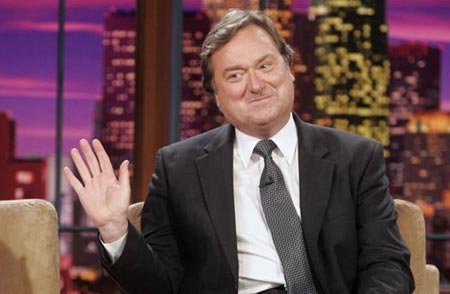 I was standing in the NBC Nightly News studio on a cold Thursday night last January when Brian Williams' on-air guest sat down for a quick chat with Brian, and the rest of the country. It was Tim Russert, talking with his trademark animation about how the fate of country depended on the results of the upcoming Super Tuesday primaries.
I positioned myself by the swinging glass door such that I could intercept Russert as he left the set during the commercial break. Sure enough, a minute later, he came bounding towards me, smiling like a kid who'd just aced his final exam.
"Hi Mr. Russert. My name's Mike. I run Newsvine.", I said, stepping in front of him to shake his hand.
He scanned my face against the hundreds of thousands he'd seen before in his life, trying to decide if he should recognize me, and then raised his hand to meet mine.
"What an election!" he shouted with a big smile, and then continued through the studio at full speed.
That is one of my many lasting memories — and my only personal one — of Tim Russert, who died of a heart attack yesterday at age 58. He was a man who made politics an interesting subject to follow, even for someone like me who is generally put off by the subject. He was known as the most prepared, incisive interviewer in the business, and he will be missed. Best wishes to the Russert family, his closest friends, and everyone else affected by his passing.