All I Want From Adobe CS4…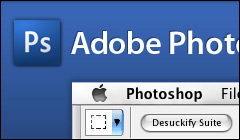 So word came out today that apparently Adobe Creative Suite 4 is right around the corner. Greeeeeaaaaat.
There are only three things I want from this new release:
1. A new install/update process that doesn't feel like Adobe is rewriting every line of code on my entire hard drive. This includes the congruent request that Adobe not launch and quit five different "agents" sequentially in order to accomplish the above.
2. A new codebase that doesn't feel like it's chewing up every last bit of processing power on my new enough 2.4 GHz iMac with maxxed out RAM. Unless Adobe has signed my machine up as a node in the SETI project without telling me, I don't understand why something as simple as the Save-To-Web command should invoke ten seconds of beachballs.
3. The long-needed "I-Work-On-The-Web-So-Turn-Off-All-This-Color-Profiling-Crap-Until-I-Say-Otherwise" button.
Chances of any of that being in the next release? I say slim. But I hope I'm wrong. My opinion is that over the last few years, Adobe Creative Suite has become the Microsoft Office for right-brained people. They simply ran out of really useful things that people needed so they just piled on things people didn't.
Personally, I'm about one more disappointing release away from giving something like Pixelmator a shot.