Completing the Cycle of News
I gave a talk today at an all-company meeting over at MSNBC on the subject of "news ecosystems" — the main point being that in order to produce the best news experiences in the world, you need to think of your audience as much more than just a passive sponge for your content. Passive news consumers can turn into active news participants if you give them the right environment.
This month, we launched a feature on Newsvine called "The NBC Nightly News Discussion Club" (available at nightly.newsvine.com). In concert with MSNBC's new video player, the Discussion Club is the first and only example of a network news agency making every single segment of their 6pm national news broadcast available for instant viewing and discussion online. So if you're watching the news and you see a segment you want to talk about with other people, you're no longer limited to whoever else happens to be on the couch. There's now a universe of people to discuss it with online.
It would be interesting enough if that was the end of it. However, we've also included the ability for users to submit questions to Brian Williams and have them answered in video form, right on the site. The first example is below: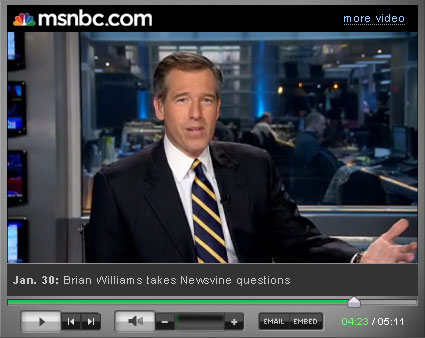 So what we have so far is:
News agency broadcasts the news -> audience discusses the content -> audience shoots back questions to the anchor -> anchor answers (select) questions right on the site
Maybe I'm biased because this is partly my baby, but I just think that is super cool, and super significant.
I also think it's great that Brian — probably the most recognized face in U.S. National news — answers all questions off the cuff, with no teleprompter, and with a level of frankness you don't often see on national news broadcasts. In responding to one of the questions, he even mentions his political affiliation (independent), which is rare for news personalities to do.