Got iPhone? Get Leaflets…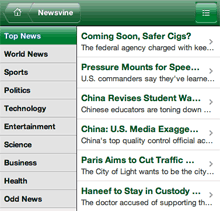 The good fellas' at Blue Flavor are announcing this morning the release of "Leaflets" — mini browser-based apps for your shiny new iPhone. Available flavors currently include Flickr, Del.icio.us, Upcoming, The New York Times, Newsvine, and a few others.
The cool thing about Leaflets is that they display data from the services listed above in a format tailor made for the iPhone. Apple has made a big deal about how the iPhone can view "the real web" and not "the mobile web", but while this is true, it still doesn't mean "the real web" is an ideal format for the iPhone. The mobile savants at Blue Flavor have taken this axiom to heart and created a nice middleware layer which lets me get more out of my Newsvine, my Flickr, and my Del.icio.us by getting less.
Check out iPhone Leaflets at GetLeaflets.com.