Business Cords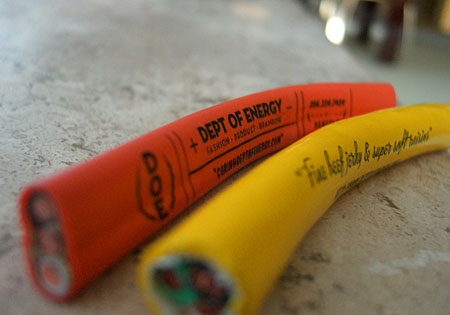 I was out at a bar with my good friend Corin this weekend when he laid some of his badass new business cards from design firm The Dept of Energy on me. They are badass because they aren't cards at all, but rather functional, palm-sized electrical cords with with his logo and business information imprinted on them.
Very, very cool.
Not only do they reinforce the brand of the firm, but the novelty and tactile values are off the charts. The yellow cable is as pliable as a heavy-duty extension cord while the orange cable is more like a really stiff stress ball.
It's the most interesting "card" design I've seen since The Blood Card and a whole lot less scary. But at 40 cents apiece, Corin is careful who he gives them to.
What are some other examples of creative business card design these days? I haven't seen anything really jump out at me lately.