"What Will The TV Spot Look Like?"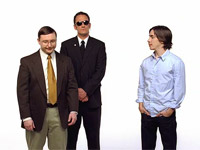 I was meeting with our investors today about Newsvine and the subject of product "explainability" came up. It seems that every time we think about adding a new feature to Newsvine, it becomes progressively harder to explain exactly what Newsvine is. This is a fairly common problem in product development, and if not dealt with swiftly can lead to consumer confusion and adoption issues.
One of our investors then proceeded to tell me how it works at Apple (he was behind a lot of Apple's successful product marketing and development). He said:
"The answer to every product question that comes up at Apple is 'What will the TV spot look like?'"
In other words, if you can't think of a 30-second spot that neatly and efficiently explains your company, your product, or whatever other consumer-facing thing you happen to be working on, you aren't building the right thing.
Refreshing.