Holy Headlines, CNN!
I'm not complaining or anything, but has anyone noticed how tabloidy the CNN.com front page has gotten lately? The subject matter is more topsy-turvy than ever and the headline writing seems deliberately offbeat.
"Libby's Defense Tackles Bush's Former Spokesman" (TACKLES?!?)
"Dead Soldier To Father Kid With Woman He Never Met"
"Idiot Window Washer Hangs By Toes 6 Floors Up"
A screenshot of the front page as of one minute ago is below: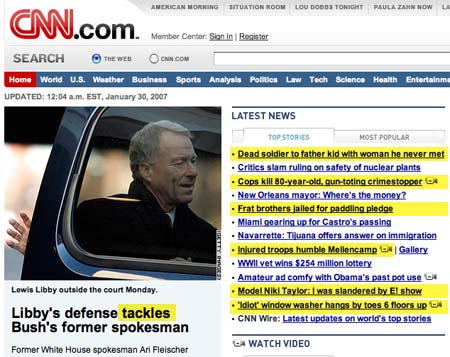 Just to repeat, I'm not complaining, but I've definitely noticed a gradual change from CNN's matter-of-fact hard news approach to a more entertainment-based approach over the last year. For better or for worse, I think most news outlets will move in the same direction if they aren't already.