24 Is Back — Please Kill The President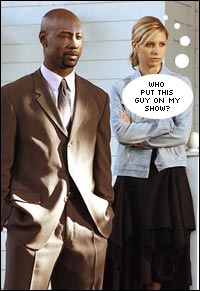 So the best show on TV — 24 — is back for a sixth season. If you missed last night's two hour premiere, try and download it somewhere and then tune in tonight for hours three and four. This season, like all others before it, starts out with the sort of high drama that draws you in almost from the opening minute. I won't give anything away for those who may have missed it, but I do have some concerns about season six so far:
First and foremost, who the hell decided to cast D.B. Woodside ("Wayne Palmer") as the President of the United States? Especially after last season's great performance by Gregory Itzin. Woodside has been by far and away the worst actor in six seasons of the show and his portrayal of the president is laughable. Chloe O'Brien would be more believable. The actor's previous career highlight was a largely inconsequential role in Buffy The Vampire Slayer. The only rationale I can think of is that 24's writers sometimes try to mirror things to real life and since we now have a less-able relative of a former president in the White House, maybe they thought it would be cool to do the same thing on the show. Bottom line: I hope Wayne Palmer is dead before the end of tonight.
Early in the premiere I grew a bit worried about how Muslims would be portrayed throughout the season. In the past, 24 has not shied away from casting religious and ethnic minorities in questionable light and this season started out no different with Islamic radicals and suicide bombings dominating the plot. You can already see, however, that there will be efforts to separate these sorts of people from the U.S. Muslim population as a whole… and that's good. For instance, one of the past terror leaders has already "turned peaceful". Hopefully, by the end of the season, the public will come away with a higher opinion of U.S. Muslims and not a lower one. I think it is the show's responsibility to keep the portrayal honest and socially constructive.
I love seeing Kal Penn of "Harold & Kumar" fame in the cast! Although he plays a serious role as a complicit instrument of terrorism, I can't stop picturing him with a joint in his mouth. Go Kumar!
Between the start of 24 and the restarting of the third season of Lost in a few weeks, 2007's TV season is off to a great start.