What's In Al Gore's Bookmarks Bar?
I have this really peculiar habit of always examining what is in the Bookmarks Bar of people's browsers. I do it when I'm looking at someone's computer screen, when someone sends me a screenshot which includes their browser, and even on TV when I see a browser somewhere in the frame. You can tell a lot about someone by what they've decided to drag in there.
So tonight, I was watching Al Gore's "An Inconvenient Truth" on DVD and about halfway through the movie, they cut to a scene of Gore typing on his Powerbook. For a split second they showed his web browser and I hit pause and snapped this picture: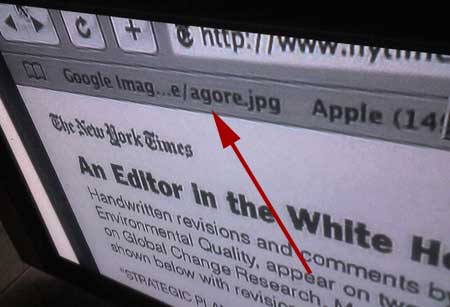 I'm not sure exactly what URL that is, but it appears to be one of the results from this Google Images search.
I don't know why I think this is worth posting about, but it just seemed weird to me. You can tell by the rest of his Bookmarks Bar (not shown) that he hasn't customized much else, but he apparently felt the need to have photos of him on the web one click away at all times.
So what's in your Bookmarks Bar? Post screenshots in the comments using a standard IMG tag…