The Ultimate Showerhead Post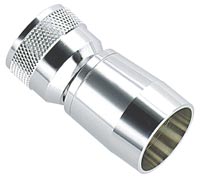 It's not too often you can stump Google these days. Search for any product, current or past, and you almost always get a slew of results telling you all sorts of things about it. Specifically, what it is, where to buy it, or what product has now replaced it in the product line. This usually even works on nostalgic products purchased decades ago.
Recently, however, I searched for a type of showerhead I've used since my college days and couldn't find a single useful reference anywhere on Google. It's the simplest and most powerful of showerheads I've ever used and it's called "The Skimpy" (pictured to the right). It shoots a concentrated, forceful mist in a controlled stream unmatched by any other showerhead I've tried. The last time I purchased one was at a local hardware store maybe five years ago. It was about $8. The only reference on Google was an image of the showerhead in an obscure "product photos" section of the Interbath website. Subsequent searches on Interbath turn up no mention of The Skimpy.
So, I have a few options here. I can move the old Skimpy to my new place and use a different showerhead in the second bathroom. Or I can scour the interwebs for a place that somehow might still have Skimpies. OR… I can write a blog post soliciting opinions far and wide on what the best showerhead in the world is.
So that's what I'm doing. Number three.
If you have any useful information on what you believe to be the most excellent showerhead you've ever used, post it in the comments along with a brief explanation as to why it's so great. With any luck, after a few weeks, we'll have the world's most complete resource on superlative showerheads.