The Volkswagen Eos: What Took So Long?!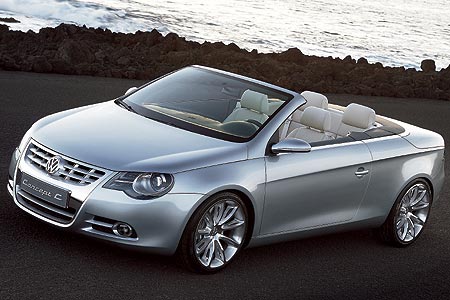 I've wondered for at least ten years now why Volkswagen never made a Jetta-like car with a retractable or convertible top. I owned a 1999 Jetta VR6 once which I loved but ended up moving up to a Saab 9-3 because I just love convertibles. I really only had five requirements which led me to the Saab:
Manual transmission
Usable back seats
Under $40,000
Probably not American
At least *reasonably* masculine
Volkswagen seemed like the perfect company to build a car like this but the only ragtops they had in production at the time violated the last requirement: The Cabriolet and The Beetle.
A few days ago, I happened to be driving by a VW dealer and saw what looked a little like some sort of Jetta convertible. Holy crap! A quick check online revealed that this new car is the Volkswagen Eos. And it's not just a convertible! It's a retractable hardtop!
Starting at $28,000, this is the car I would be buying right now if I drove more than 30 miles a week and was in the market for a car. It's fast but not too fast. High-end but not so expensive that you'd worry about a door ding here and there. And how can you not love the retractable hard top? I haven't even driven one yet but if it drives like a typical Volkswagen, it's probably money on the road.
UPDATE: Apparently, this thing has a power sunroof too. I've never seen that in a convertible or retractable hardtop before. It's also reportedly the top-selling convertible in Europe right now.