Jesus Christ Has Registered For Newsvine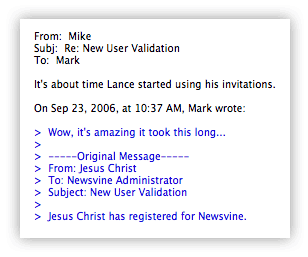 Ok, maybe not that Jesus, but who knows (e-mail exchange on the right).
Some good stuff has been happening around here lately though. Certainly not the second coming, but enough to warrant a post:
We just released August's earnings and the top Newsvine earner netted $414.27 for the month! Certainly beats AdSense! Hey, maybe letting users earn their own revenue might actually work.
Newsvine made the front page of the Seattle Times today, paper and electronic editions. It's an article by Kim Peterson about emerging forms of journalism and it's worth a read.
We also made Scrivs' list of the Top 10 Web 2.0 Winners, so we're obviously quite thankful for that praise.
The summer has been great to us, which is rare for news sites. While most news sites experience seasonal downturns when the weather turns nice and people are out of school, we did almost a half million unique users in August and have been up month-over-month for the entire summer.
If anyone's going to be in Washington D.C. in a couple of weeks, I'll be speaking on a Washington Post moderated panel with Jeff Jarvis, Mike Arrington, and Herndon Graddick at the Online News Association Conference… apparently the largest journalism conference ever produced. I'm psyched.
Newsvine user Zaki is now reporting from Kabul. Good stuff.
We have some really good stuff to release in the next few weeks. Biggest release since the customizable user columns.
</shameless promotion>