Low Involvement Fantasy Football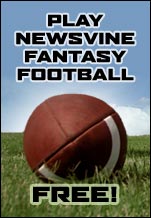 I just got totally screwed in our ESPN.com employees-and-alumni fantasy football league by the worst keeper rules I've ever seen. It's a $200 league too so it hurts twice as bad. I don't even want to get into the specifics, but let me just say, if you participate in a keeper league, be damn sure the people making the rules use standard keeper rules and don't make up their own on the fly.
I feel crippled. And yet… I will still dominate.
If you're already in enough fantasy leagues or you're looking for a less "effort intensive" way to play some fantasy football, head on over to the Newsvine Hi-Lo Fantasy Football Challenge. The Hi-Lo Challenge is much quicker than full-roster fantasy football in that all you need to do is pick two NFL teams each week: one that you think will score a high number of points and one that will score a low number. The difference in their actual scores is your score for the week.
The catch — much like a "survivor pool" — is that you can't pick the same high team or the same low team more than once during the season.
You can create up to 8 different entries and join a different group with each so as to play against different friends, colleagues, and people you've perhaps never met. So head on over to the Hi-Lo Challenge and test your football prognostication skills…