Join The Industry's Trash-Talkingest Football League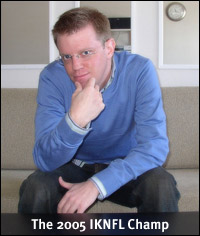 It's fantasy football time again, and this year, we're expanding the Industry Know-Nothings League (IKNFL) to a whopping 26 people. That's 260 fingers worth of trash-talking… or trash-typing, as it were. The good news is that we have exactly ONE spot up for grabs, and now is your chance to win it. First there are some things you should know about the league:
Don't join if you don't know football. We already have one of those and it's a bit aggravating to hear cries of desperation throughout the entire season, and even during the draft.
This is a $40 buy-in league with weekly payouts and end-of-the-year payouts, so please make sure your religion doesn't frown on gambling before joining.
We draft offensive and defensive players and the scoring is fairly normalized so that every player on the field can make an impact.
We will be drafting live, online, in a couple of weeks.
So there you have it. If you'd like to claim the final spot, you need only do one thing: Write a haiku about Croftie (pictured to the right), who was the winner of last year's league. Post your haikus in the comments. The league will pick a winner on Wednesday, August 9th.
UPDATE: Despite a collection of some of the worst haikus ever written, the league has spoken. Welcome Dan Rubin! Welcome to your doom… (cue Altered Best sound effects)
Thank you to everyone who submitted a haiku. I'm sure we'll have a spot or two left next year.