My Building Has Genovese Syndrome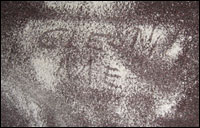 I love my condo building. I really do. It's located in a great area. Most of the residents are nice people. I have the top floor corner unit. My next door neighbor is hot. I could go on and on.
But someone spilled powdered laundry detergent in our one elevator over a week ago, and despite probably every single one of the building's 50-odd residents using the elevator during that time, no one has cleaned it up. It's like non-lethal Genovese Syndrome.
Someone took the time to write a note with a bold red Sharpie asking the perpetrator to take responsibility for their spillage. Another person took the time to take that note down. And just today, I saw that the words "clean me" had been scrawled in the powder. Cute. Kind of reminded me of an extremely dirty white Honda I saw once, with the words "Also available in white" written on the window.
So today I finally broke down and vacuumed the stuff up. As one of the only renters in the building, I was probably the least likely candidate to care enough to do so, but what can I say. It wasn't even the detergent itself that was killing me. It was the constant reminder that I live in a building of people too wrapped up in their own lives to deal with even 30 seconds of pro-bono energy exertion… myself included.