On Joining The Male Butt-Crack Flickr Group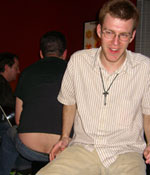 I don't use Flickr a lot and every single message I've ever received through it has been something along the lines of:
"Person-You-Sort-Of-Know has added you as a contact!"
This morning, however, I received this message from susan1975 inquiring about a photo I (or Scrivs) took of Valleywag Chief Snarkology Officer Nick Douglas at SXSW:
"Hi there. Could you please add your photo called "CIMG0170.jpg" to my Male Butt-Crack Group? Thanks, Susan."
Man, I totally would, but that would require me to actually join the Male Butt-Crack Group.
This is clearly another situation that Flickr is ill-equipped to handle. I would like to add my photo but am unwilling to join said butt-crack enthusiast group. Until this situation is resolved, the Male Butt-Crack Group shall be without my esteemed submission.
Are there any other unusual Flickr groups out there I should be aware of?