Reputations, Trust, and Atomic Publishing
It seems like the question comes up at every conference, interview, or personal publishing powwow: Can you trust bloggers as much as you can trust journalists?
I always answer the question the same way: If you look at it in terms of "averages", then no, you cannot trust bloggers as much as you can trust journalists. Looking at the averages, however, is the wrong way to answer the question. That would be like trying to answer the question of whether Italy or France makes better wine by dumping all the wine from each country into a vat, stirring it up, and then taking a sip from each.
Who cares about averages? What I really want is a few bottles of the best from each country plus maybe a sample of what one would consider "good table wine". Armed with the best and the "typically good", I can make a judgement as to who makes the better wine.
The same is true in the world of blogging vs. journalism. Since no one is going to settle for reading average journalism or average blogging once aggregation gets more intelligent, the real question to answer is "are the really good bloggers as trustable as the really good journalists?"
To answer this question, I always use three examples:
Om Malik
Om is a blogger and a journalist. The journalistic standards he upholds while writing for Business 2.0 are no different than those he applies to his blog, GigaOm. The man was a journalist before WordPress was even an apple in Matt Mullenweg's eye. Om's style varies a bit between his online and offline writings, and it is up to you to decide which you like better, but the unit you are deciding whether or not to trust in both cases is an atomic one: Om himself.
Walt Mossberg
Walt is a longtime personal technology writer for the Wall Street Journal and his column is often a catalyst for new products entering the mainstream. He doesn't have a blog but the opinions and research he pens for the Journal are entirely his. The question to answer with Walt is "Would you trust him any less if he were to quit the Journal and start his own blog?" I believe most people would say no.
Rafat Ali
Rafat is the founder of PaidContent.org, MocoNews, and the ContentNext network which acts as parent to these and other emerging properties. I've been reading PaidContent since before they had a proper RSS feed and I've found they break more stories than almost any traditional media outlet. Rafat is an example of someone who could quite easily have a plum job as a journalist for the New York Times but chooses not to because he prefers the rapid-fire format of blogging.
So in all of these cases, we have writers who are perfectly trained in the art and science of journalism but would (and in some cases do) succeed by being great bloggers instead. This is not to say that what Om and Rafat do is not journalism… it is. It just follows the format of blogging a lot closer. It's much more atomic, and much more timely.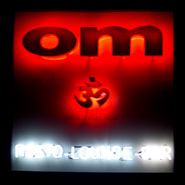 The real reason Om left Business 2.0? I snapped this on a street at night in Playa Del Carmen, Mexico.Which brings us to the the big news that broke a couple of weeks ago: Om is going full-time on GigaOm. I know I'm a little late in writing about this but I'm not into the whole "writing for TechMeme" thing. Who wants to write about something that 100 people are all scrambling to write about at once? That's what reporters do, I guess, but I'm not a reporter.
Om is in the rare and enviable position of having built a brand up for himself while working in established media which is bigger than his own presence in established media. In other words, when you think of Om, you think of GigaOm (and a sweet stainless steel Nokia phone which Om once told me "will get you laid"). After recognizing that he could essentially run his own micro media network that had as much authority as any other source out there, he jumped ship and got some funding to help develop the business.
It must have been a bitter pill for the good folks at Business 2.0 to swallow. On the one hand, Om's blog presence brought more attention to Business 2.0, but on the other hand, it made him "need" them a lot less in the end. I experienced the same dynamic while blogging during my employment at Disney/ESPN. The blog was a great way to evangelize web standards, progressive design principles, and new directions in video streaming "on unofficial behalf" of the company, but in the end, I felt the personal brand created at Mike Industries could be used for bigger and better things… like Newsvine.
I can definitely understand why companies do not want their employees blogging, but in looking at Om's situation — which will be shared by others to come — can publications really expect their employees not to blog at all? Or in other words, cease all personal brand building while under employment? It's certainly a lot to ask of some people.
Now, superbrands like PaidContent and GigaOm are extremely hard to create and only a select few writers have the skill and energy to create them, but what about more casual writers who are perhaps quite adept but aren't going to get the millions of page views required to get wealthy off of their content networks? Thankfully for the rest of the world that falls into that category, we have things like Newsvine, MovableType/WordPress, and Typepad/Blogger — places to build reputations, start conversations, and have some fun doing it. All at a relatively atomic level, without the filter of a corporation between the writer and the reader.
Which brings us back to the original question of whether you can trust bloggers. As illustrated above, you can certainly trust the best ones, but the tricky part is evaluating reputations below that. In the distributed blogosphere there is no universal "reputation meter" but every company is taking a stab at creating one. At Newsvine, we have Vineacity. At Technorati, they have "Authority". And on and on and on.
As reputation systems mature, we will find it increasingly easier to make our credentials portable. If I'm trusted by 50,000 members in one community, that data will be available to other communities so I'm not, in effect, starting from square one.
The atomic unit of publishing is the individual — it always has been — and the single greatest thing personal publishing has done is to transfer reputation from the publisher to the individual. Something tells me that with Om being one of the first renown journalists to turn his attention to this full-time, we're still just getting started.
This, of course, doesn't mean that mainstream media is going away, nor should it. It just means that big media might turn into more of a midpoint for many journalists instead of a final destination. And then again, a really smart publisher will probably figure out a way to give writers their own franchise within the organization.
So who will be the next well-known journalist to pursue a personal franchise full-time? Answer the poll at the beginning of this article to view the results.