Picking On Yahoo, Part Two
I rarely fill out surveys online, but given the ridiculous new password-prompting policy on Yahoo, I jumped at the chance to help them out when I saw their prominent "Help Us Improve Yahoo" ad on my Yahoo Finance page. Sweet fennel! A way for me to quickly and constructively voice my displeasure about Yahoo without having to interrupt Dustin from his Tetris experiment.
Clicking on the survey link, however, led to one of the worst designed surveys I've ever tried to participate in. Here's the screenshot: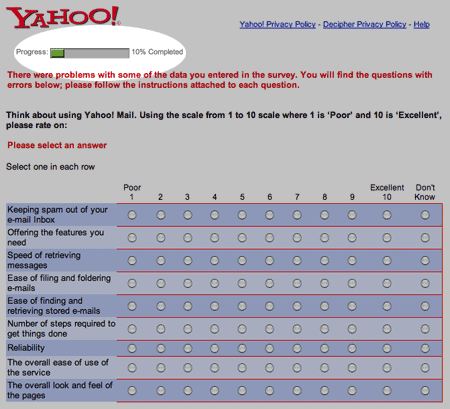 So what's wrong here? In order of importance:
This is not even a survey about Yahoo Finance. It's about Yahoo Mail.
I count 9 questions on the screen and I'm only "10% complete". I extrapolate from this that in order to complete the survey, I will need to answer ALMOST 100 QUESTIONS. This was the point that they lost me… and I *wanted* to fill out a survey.
Each question has 10 choices. Is that *really* necessary? How about just "poor, neutral, excellent"? The amount of brainpower required to make such granular judgements is prohibitive in surveys like this.
Once I decided that I didn't want to fill out every single item on this survey and maybe just check if there was anything related to Yahoo Finance or the password-prompting thing, I clicked "Continue" to quickly skip to other screens. Sorry, no go. It's all or nothing. Unless I'm willing to fill out every single radio button in this survey (in order!) I cannot even participate. I want to give Yahoo *some* data and they won't take it unless I give them *all* data.
This is really bad practice, Yahoo. You have presented a survey that will not only receive much less participation than it should, but the data you *do* get will not even be representative of your user base. The only people who will fill this out are people who are extremely patient, extremely concerned about you, and in possession of a lot of free time. Is that really representative of your user base? Cut this thing down to one page and you'll learn a lot more.
* On a humorous note, I just noticed two links in the upper right side of the screen: "Yahoo Privacy Policy" and "Decipher Privacy Policy". I thought it was an attempt by Yahoo to be funny about how long and indecipherable their privacy policy is. Nope. Turns out the company who provides the survey goes by the name of "Decipher". Ha!