Visualizing Newsvine with Google Maps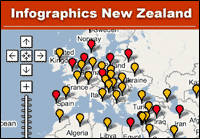 One of the really great things about having such a cool group of early Newsvine users is that people think of great new stuff every day. About an hour ago, Fraser Mills posted an item on Newsvine pointing to a great news visualization he just built with Newsvine data and the Google Maps API. I'd call it a "mashup" but that term has always made me think of pureed food, so I stay away from it.
There are three things in particular that I think are cool here:
Fraser is building things off our API before our API is even officially released or documented. That is awesome and it's a testament to the power and flexibility of tagging and XML data. I remember that people started building Peppers for Mint long before The Wolf documented his API as well. I think that's just great and I encourage anyone who is interested in Newsvine APIs to post their requests to the official Newsvine Blog.
Aside from freeform location tagging, we actually have 225 regions around the world which we haven't exposed to users yet. Once true location data like this makes its way into posts, wire articles, and seeds, the map will be even more useful. You'll be able to zoom in on Seattle, for instance, and get stories down to the micro-local level.
It's good to get a look at how Google Maps potentially displays news items. I'm very curious as to how Yahoo Maps compares, because as a designer, I like the Yahoo Maps skinning capabilities a lot more. Justin Everett-Church's example of Yahoo Maps piped into Flash and set against a pirate theme is an example of what I'm talking about. We place a high premium on everything looking great and I'm wondering what some of the tradeoffs between the two mapping APIs are.
UPDATE: Alright, I guess Yahoo only maps the U.S., so Google it is! And no, we weren't *really* thinking about a pirate-themed news map. :)