When Pseudomation Attacks!
Ok, I like Jason Fried just as much as the next guy, but this page on Meetup.com is a little ridiculous, no?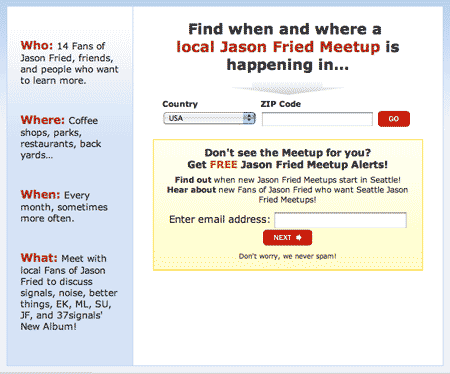 "Meet with local fans of Jason Fried to discuss signals, noise, better things, EK, ML, SU, JF, and 37signals' New Album!"
Whoa! What's going on here!? Can we look forward to a compilation of Jason's best dive-bar karaoke in the coming weeks or did Meetup.com make that all up?
What's happening here is something I like to call "pseudomation". A web site, in an effort to expand their offerings and encourage participation, scours the internet, scrapes data from popular web sites, and attempts to use that data to personalize their own pages. It can be done automatically, by an intern, or automatically with a human "check" performed afterwards to make sure it makes sense.
What's weird about this one though is that I can't really tell which method they used. It seems pretty automatic, with the initials "EK", "ML", "SU", and "JF" just plastered on there fairly nonsensically, but the main "theme" of the page appears to be Jason. Furthermore, the url is "37.meetup.com" and not "jasonfried.meetup.com" which is just even weirder to me.
Anyway, just a random Friday morning finding. Anybody know of any other examples of pseudomation gone bad?
UPDATE: Based on "nomation's" comment below, this is actually *not* pseudomation but rather a legitimate Meetup.com group! No wonder it was so confusing.