The Safeway Club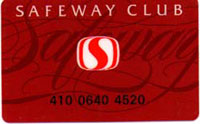 Woody Allen (and I think Groucho Marx) once said "I would never join a club that would have me as a member."
There is a special club, however, that I have refused entrance to dozens of times for entirely different reasons: The Safeway Club.
You see, I'm a huge supermarket snob. So much so that I have an entire post saved up which explains the difference between a good and a bad supermarket.
That said, I found myself at my local Safeway the other day. It's a supermarket I hate for many reasons, not the least of which is their use of the "Safeway Club Card". I've probably been to Safeway about 40 times in the last 10 years and every single time at the cash register they've asked me if I wanted to sign up for a Safeway Club Card. The conversation usually goes something like this:
Cute Checker Chick (CCC): Your total is $45.38. Do you have a Safeway Club Card?
Me: No.
CCC: Would you like to sign up for one?
Me: No thanks. I don't come here often.
CCC: Ok. Thanks for shopping at Safeway.
40 different visits. Always the same result.
But this time, things went differently. I happened to be buying mostly alcohol (shut up… don't judge) and the cute checker chick noticed that having a Club Card would take about 30% off my bill.
CCC: Your total is $33.29. Do you have a Safeway Club Card?
Me: No.
CCC: Now you do (throws card in my bag). Your total is $21.94.
Me: Ummm, ok. Thanks.
I tried to explain to the checker the significance of what she had just done but the accomplishment was mostly lost on her. One subtle difference in the delivery of the pitch and I am now a card-carrying Safeway Club member. Doesn't mean I will start going there any more often, but hey, the card's in my wallet now so I guess they figure that's the first step in the assimilation.
All grocery stores with loyalty card programs should sign people up in this way. I can't refuse a card if I'm not even asked to sign up for one.