Jet Blue's Masterful Approach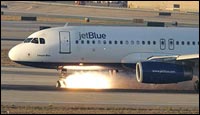 Photo by Lori Shepler (LA Times)At about 6pm yesterday I got a call from my friend Calvin.
"Are you watching the Jet Blue plane drama right now???", he asked.
The first thought that went through my head, of course, was 9/11 and the chance that something terrible was happening again.
"Uhhh, what Jet Blue plane drama?", I responded uneasily.
"A plane took off from Burbank and its landing gear turned 90 degrees after takeoff. It's been circling above LAX for three hours trying to land. Turn on your TV!"
The first thing I did was check the major news sites. MSNBC.com, to their credit, was showing live video of the plane circling around. To their extreme discredit though, the video wasn't viewable on a Mac. This is off-topic, but now is as good of a time to bring it up as any: MSNBC, get your shit together. Seriously. I know what it takes to deploy cross-platform video on a major news site. I've done it at ABCNews and ESPN. It's not hard. Even if you use Windows Media as your format. Step it up already and support cross-platform video. CNN is kicking your ass in this department.
Anyway, end MSNBC rant.
Luckily, my new office is a six-minute walk from my place so I jammed home and turned on the TV. The jet was just beginning its final approach onto the runway and the tension was intense. Ordinarily, this would be when viewers might start thinking bad thoughts about Jet Blue. Instead though, here are some of the snippets heard from the TV commentators during the next few minutes:

"As anyone who's flown Jet Blue knows, they have individual TVs in every seat. There is no first class. The idea is that everyone is first class."
"I wonder if the passengers have been watching this unfold from their television sets. All sorts of news channels are available through the live DirecTV service."
"This sort of thing has happened on an Airbus before and the outcome was a safe landing. This is more likely a mechanical failure of Airbus than an error on the part of the Jet Blue crew."
"Jet Blue's safety record is among the best in the business and all their planes are new, so the passengers are in good hands."
Wow. How can you not want to fly Jet Blue after hearing that commentary? Almost regardless of how the drama plays out. The great thing about it was that the commentators weren't paid endorsers of Jet Blue… they were just speaking the truth, and with a company like Jet Blue, the truth sells itself. It's simply a great airline, and even in a potentially disastrous situation like this, people just can't help but sing its praises.
Over the next minute, I watched the plane approach the runway and make the most graceful landing I've ever seen. Back wheels down. 20 or so seconds of light deceleration. Front wheels down. 5 or so seconds of the perpendicularly turned tires actually withstanding the burn of the concrete. Tires disintegrate into a brief, compact fireball and then extinguish. Plane glides to a stop on its perfectly standing front struts.
It doesn't get any better than that. The pilot even managed to hug the white centerline of the runway the entire time, despite the fact that without functioning front tires, you can't steer.
Several minutes later, the passengers began exiting the plane, many with smiles on their faces. The channel I was watching managed to get a phone interview with one of them.
"How did the landing feel?", the interviewer asked.
"Honestly? It was the smoothest landing I've ever felt."
Congratulations Jet Blue. You can't buy that sort of PR.